by Martin Cooper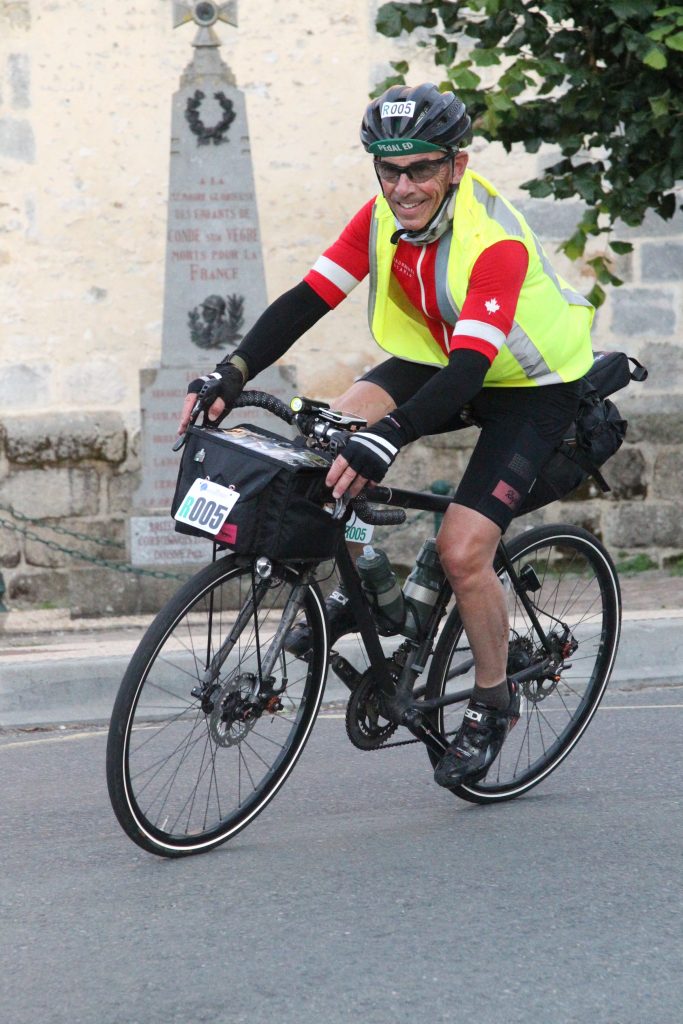 Paris-Brest-Paris (PBP) is the oldest continuous bicycle event in the world, having been first run in 1891. It is 1230 km in length and involves over 11,000 metres of climbing. PBP begins just west of Paris and extends west through Brittany to the port city of Brest and then continues back to Paris.
Paris-Brest-Paris was originally conceived by Pierre Giffard, the editor of the newspaper Le Petit Journal who believed that an extreme bicycle race would pique the interest of readers and help to sell papers. In 1891 the newly developed Peugeot automobile was set to follow behind the 1891 PBP to determine if it could cover the distance of the race, which would make it the longest distance completed by a gas powered engine. The Peugeot prototype was successful but arrived in Paris six days after PBP winner Charles Terront.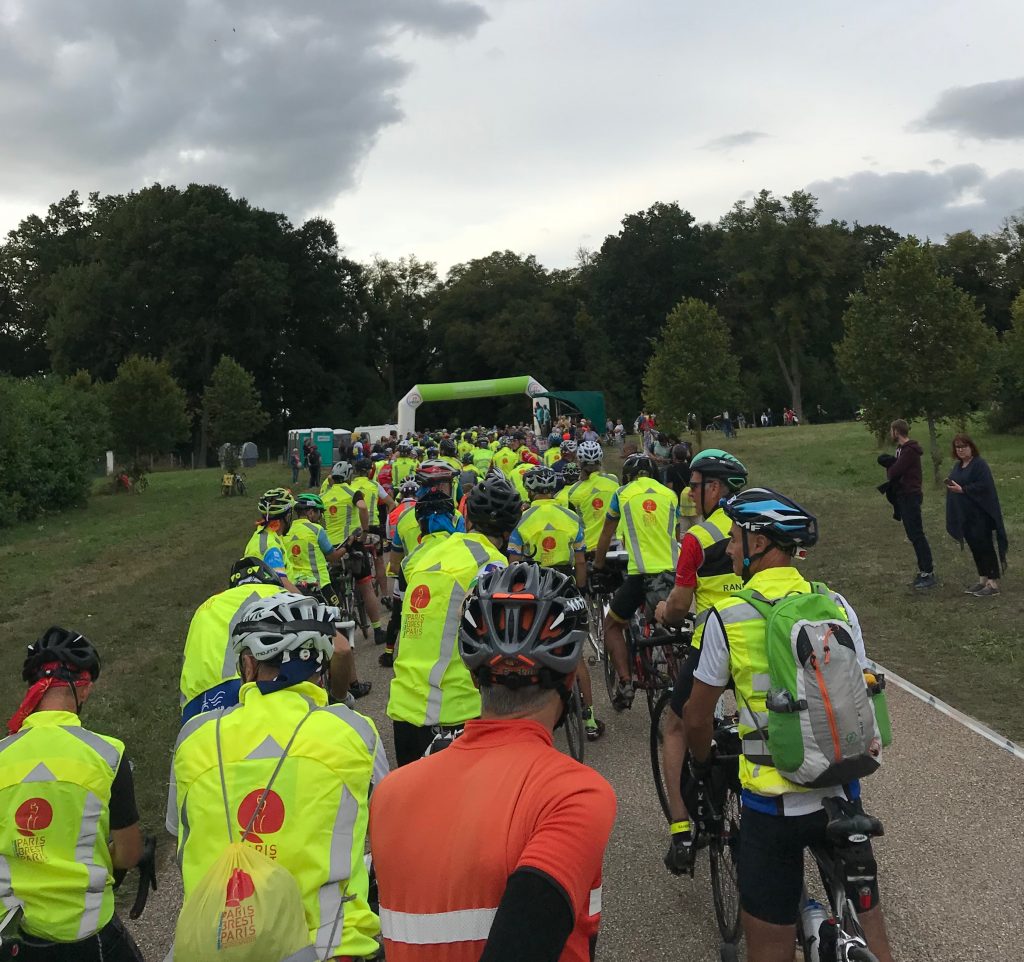 Due to the magnitude of the undertaking, PBP was only held every 10 years. The second PBP in 1901 was so successful that a rival newspaper, l'Auto, created the Tour de France in 1903. PBP continued as a professional race with a cyclotourist component (including women) until 1951, when few professional cyclists were interested in racing that distance. However, it continues on as an amateur event, now held every four years.
It is an important cultural event in Brittany with multi-generational families lining the roadside to cheer on the riders with shouts of allez, bon courage and champion. Many families set up tables along the road where they provide the riders with water, coffee, cakes and crepes — a Breton specialty. Farmhouses along the route are open for tired riders to catch short naps. At the controls the Breton flag, accordion and traditional Breton bagpipes welcome in the riders. There is a celebrated French pastry that commemorates the event called a Paris Brest, which is made in the shape of a bicycle wheel. PBP is indeed a festive four-day celebration of cycling.
The rules of PBP have remained virtually unchanged since the beginning. A participant must qualify by riding a series of 200, 300, 400 and 600 km brevets by the end of June on the year of the ride. These qualifying rides are organized by cycling clubs worldwide that are affiliated with the organizing body in France, the Audax Club Parisien (ACP) and Randonneurs Mondiaux (RM). In Ontario, Randonneurs Ontario, founded in 1983, is sanctioned by ACP and RM to offer brevets throughout the cycling season. We even stage our own 1,200 km grand brevet every four years, the Granite Anvil that attracts riders from all over North America.
I completed the qualifying rides by the end of May but had to continue riding long distances to maintain fitness. I rode several well-spaced 200 km brevets during the intervening months and two weeks before PBP I did a 1,000 km brevet, the Manitoulin 1000, which starts on Manitoulin Island and goes around Georgian Bay ending in Tobermory. When I arrived in France I had already ridden close to 9,000 km in 2019, including my commute to work, a daily 40 km round trip.
The route must be followed exactly, and in order to verify this there are controls along the route where a brevet card has to be stamped with a time signature. Unlike most other brevets, navigation for PBP is not a problem as the route is signed and there are a lot of other cyclists, hopefully going in the right direction. Controls are also the only place where cyclists can be offered assistance, if they so wish. For the most part riders are self supported, which means you have to look after your own physical, nutritional and mechanical requirements. PBP has to be done within a 90-hour time limit. Any type of self-powered vehicle can be entered, including all manner and vintage of bicycles — recumbents, tricycles, velomobiles, tandems and triplets.
PBP 2019 started in Rambouillet west of Versailles in the Bergerie National or National sheepfold. Due to limited accommodation in Rambouillet I stayed about 25 km from the start in Maurepas. Arriving on Friday, two days before the start I assembled my bicycle and then headed to Rambouillet to stretch my legs and familiarize myself with Rambouillet. Near the start location I ran into Larry Optis from Ontario who was entered in Group A and for whom PBP is a race. We rode around together taking in the ambience of this charming town with its pavé (cobblestone) main street lined with cafes and bistros overflowing with PBP participants. This edition would have close to 7,000 participants from 66 different countries. Larry would be the first rider to reach Brest and ended up finishing in just over 55 hours.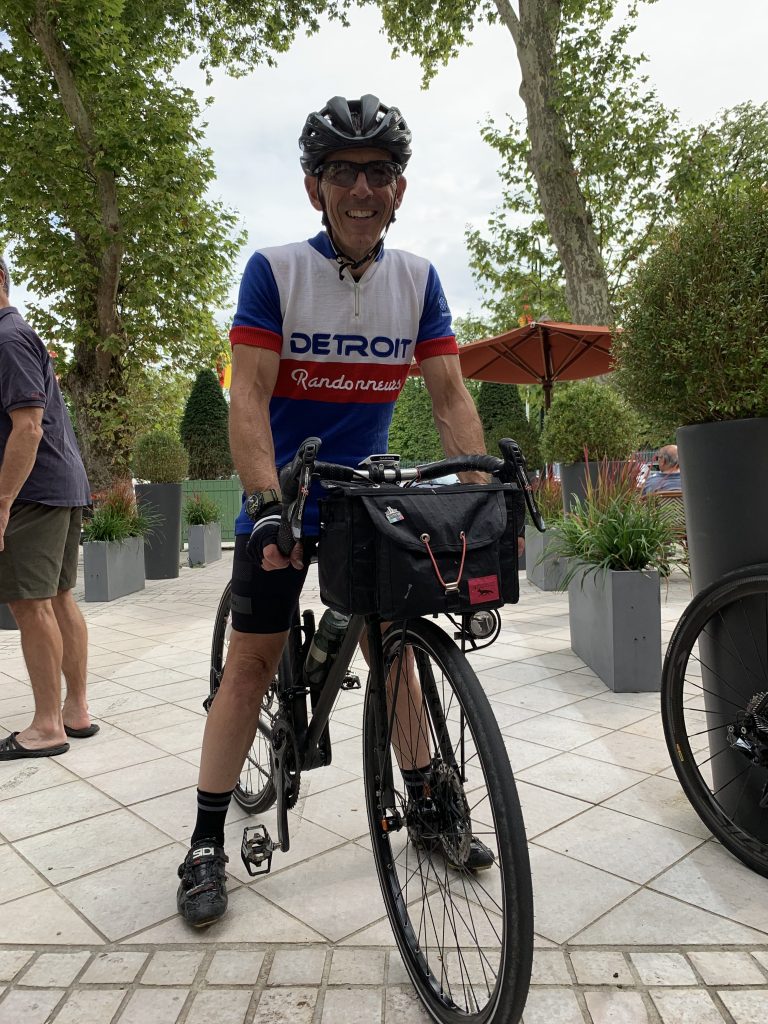 I returned the next day to Rambouillet in the pouring rain for my bike inspection, which was scheduled at 10:00 AM followed by the pick up of my registration package. At 2:00 PM the 100 or so Canadian participants were to gather for the traditional group photograph followed by a photo of the Ontario contingent, which numbered just over 30. As I had time between the bike inspection and the photo, and it was raining non-stop, I visited the Concours des Machines, which was an exhibition of specially hand built bicycles, all of which would be ridden in PBP. The constructeurs, mostly French, were on hand to discuss their designs and explain all the features that they incorporated into their bicycles.
I headed back to my hotel in the rain to try to get a good night's sleep as I was starting PBP at 8:00 PM the following evening. Fortunately the rain stopped by noon on race day and by the time I arrived at the start at 6:00 PM the weather had cleared. I had dinner with Vytas Janusauskas from Ottawa, who was attempting his 5th PBP and ran into Gerry Schilling from Detroit, who I had ridden several brevets within Michigan.
Around 7:00 I made my way to the start and joined my group 'R', waiting with great excitement and anticipation to start this epic event. My plan was to ride through the night and all of the next day, arriving at the control in Loudeac at 450 km. There I had booked a hotel close to the control where I would able to shower, wash my kit and sleep for 3-4 hours. I was planning to return to this hotel on the way back at 780 km for my third night where I would retrieve the clothes that I had washed and get some sleep.
I rolled through the starting gate and descended down a steep cobble stone path to the road where in the last hour of daylight I headed out into a light headwind at a steady pace towards Brest. I knew it would be a long night of riding as the first control was over 200 km down the road, which translates for me as 10 hours of steady nighttime cycling. There was an intermediate food stop at which I planned to spend very little time. I arrived at the first control at Villaines-La Juhel at about 5:45 AM, some 9.5 hours after I had started. Even though the forecasted low was 12C the temperature had dipped to 6C around dawn. Fortunately, I had brought just enough extra clothing to keep the chill out.
I spent as little time as possible at the control, had my card stamped refilled my bottles and avoided the long line-up for food and water. I would be able to find food along the route. The day was clear, although the headwind coming from the west had been picking up to 20km per hour. For a short time I rode with a group to get out of the wind but decided I would rather look at the scenery than the rear end of the person in front of me. Also, as the ride progressed I didn't want to be close to sleep-deprived cyclists of unknown skill. I would ride this one on my own. Later on in the ride a cyclist riding in my draft crashed because he didn't realize that the white line along the edge of road was actually a raised stone border.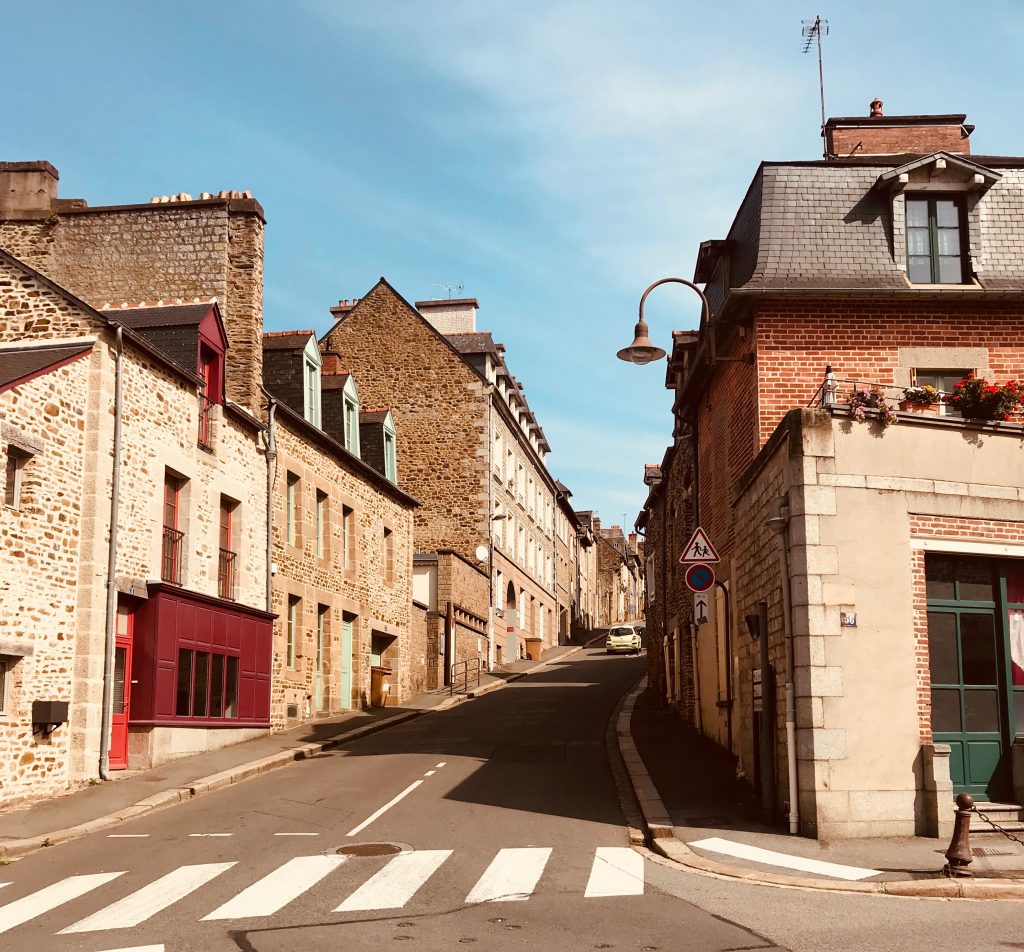 I arrived at the Fougeres control at 10:30 AM. Fougeres, which means fern in French, is one of my favourite PBP villages with its large 12th century castle, Chateau Fougeres, which is surrounded by a moat. All along the route flowers are in bloom, especially in the villages, including hedges of purple and red hydrangea.
After some 22 hours of cycling (at around 6:30 PM), I arrived in Loudeac where I had my brevet card stamped and then rode over to the hotel for a much-anticipated rest. As I headed out of the control to the hotel, a volunteer told me I was going the wrong way. I told him that I was going to the Hotel Le France for some sleep. He said: "Make sure you don't sleep in." I checked in and the proprietor Jean Francois told me that I was the second cyclist to arrive, which made me feel pretty good but I am not sure why as I didn't know when the others started or even who they were. I said to him, you know it's not a race. He asked me if he could get me anything and I told him a cold beer would be great, "and, oh yea, I have two alarms set but if I am not down by 11:30 PM please wake me up." I showered, washed my kit, and slept for a solid 3-4 hours.
The hotel was serving breakfast starting at 10:00 PM, so I had a great breakfast at midnight, grabbed some food for the road and headed out into the night. I felt rested and excited to be heading for Brest in the wee hours of the morning. Towards dawn the temperature went down to a chilly 3C, although the head wind had diminished considerably. I was anticipating a tail wind after the turn around at Brest that would propel me all the back to Paris.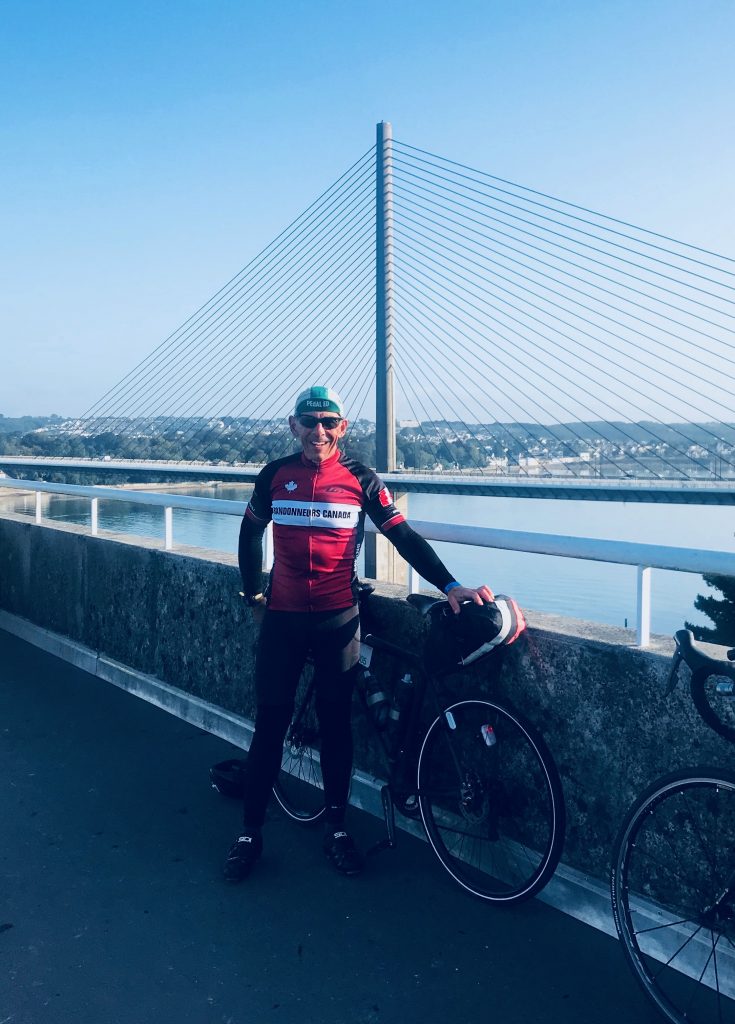 Crossing the famous Plougastel Bridge going into Brest, I stopped for the obligatory photo. It had turned into a glorious morning and I arrived at the control in Brest at 10:00 in the morning. On my way in I noticed that I was having trouble shifting out of my large chain ring, which would become a major problem climbing out of Brest. I took my bike over to the mechanic who said it would take a half hour to look at. So I wandered over to the control restaurant where I enjoyed a good lunch. I also ran into Ben Schipper from the Netherlands. I had ridden a 1200km brevet with him in Michigan and Wisconsin. Ben was enjoying the ride, but said this was likely to be his last. Surprised, I asked why and he told me that he was 76 and that the next PBP he would be 80. I had thought he was around the same age as me. I returned to retrieve my bike. As it turned out the problem was caused by my derailleur cable being pinched by my decaleur, which is special device that secures my handlebar bag, which with all the gear, food and clothing probably weighed 15 lbs. I also carried a rear seat bag that held my rain gear, insulated vest and a spare tire.
The ride out of Brest involves one of the longest climbs of PBP but rewards with a spectacular view of the surrounding countryside. I stopped in a small café filled with cyclists and ordered a pizza, half of which I ate and the rest I had wrapped up to eat later. As I made my way back to Paris, I tried to console myself that, despite the distance, there would no longer be a headwind. The more I rode, however, the more it appeared that the wind had changed direction and was now coming from the east. At least it had diminished considerably. I arrived back at Loudeac at 780km around 10:00 PM and went to the hotel where Jean Francois had a cold Leffe waiting for me and told that I was the third cyclist to arrive. I showered, slept for about 3-4 hours, put on my clean and dry kit, ate breakfast, and headed out into the darkness around 3:00 AM. Again the temperature went down to 3C, and in addition to my hub generator powered lights, I used the Garmin computer on my bicycle to help anticipate turns in the road as well as gentle climbs and descents. Sometimes on a gentle climb in the dark it is difficult to tell whether you are going up hill or down or if your legs are tired.
I continued riding through the dark arriving at the Tinteneac control at 7:00 AM. There I had my first control meal as the field of riders had become strung out resulting in fewer riders and no more line ups for food. I quickly ate what I thought was an excellent beef bourgogne. As the control was not heated I left as soon as I was finished eating.
I had booked a hotel at around 1,000 km for my final overnight in Villaines-La Juhel but when I arrived there at 6:00 PM. I felt good and didn't want to waste daylight hours by sleeping. At this control there were hundreds of people lining the street cheering, bands playing and you had the feeling that you were almost done. I ran into Dave Thompson from Ontario and Jerry Christiensen from Wisconsin who had been riding together from the start. I have done many long rides with Dave and the three of us rode together on the Granite Anvil 1200 in 2017. They told me they were heading to the next control where they were planning to get some rest. I decided to join them and ride with them to the finish. We arrived at the next control in Mortagne-Au-Perche at 10:00 PM. We had something to eat and I found a spot on the cafeteria floor, rolled up my vest for a pillow, covered my eyes with my windbreaker, and slept the sleep of the dead for a solid 1.5 hours. Feeling refreshed, we left the control at around 1:00 AM, immediately launching into a precarious and chilling descent and ending up in a little village where we stopped to get some breakfast and more importantly, coffee. Shortly after dawn we arrived at Dreux, the last control before the end. The day was glorious as we covered the last leg into Rambouillet arriving at around10:30 AM, 86 hours, 39 minutes after I started. We were presented with our medals and then led to a tent where the victory meal was being served. Later in the evening I joined the Ontario group for dinner where we recounted the trials, tribulations, glory and beauty of the preceding of PBP.
PBP is indeed an amazing event, and the ultimate cycling festival, but make no mistake, it is also a beast of a ride with its extreme distance, climbing, limited support and time limit. Approximately 25% of the participants don't finish or don't finish within the time limit. To finish PBP is to be part of cycling history – your name is inscribed in the official record book of this legendary event and feel that you have truly earned the designation Ancien.