I'd first heard about PBP way back in 2011 or thereabouts, but didn't complete my first brevet until 2015… I tried to do a whole series that year and thought if I could do that I'd try PBP then. I had to abandon my first 600K in 2015 due to poor fit causing leg issues. This probably turned out to be a good thing since I would go on to finish a 600K in 2016, and then I did the Ontario 1200K (The Granite Anvil). In 2018 I did the Ottawa Devil's Week (kinda hilly!) and went on to try the Cascades 1200 in Washington State but I had to DNF as I thought I'd hurt my Achilles tendon.
In 2019 I started Devil's week but chose to skip the 400K since it was similar to the 300K and had just as miserable weather. Then I DNF'd my first 600K due to some painful saddle sores that had started from riding in the rain and afterward I was thinking about abandoning my registration and skipping this whole thing… it turned out that it had been a bit of a rocky road to get to PBP 2019 but I managed to finish a different 600K. I decided to do an additional 600K and a 1000K brevet in early August before going to PBP. Thankfully the DNF earlier in the season probably helped build my resolve and strength. I felt confident in my training and had worked out all my issues with bike fit and saddle sores. I bought a nice pair of castelli rain pants to avoid riding with wet shorts… so naturally I didn't get any rain on PBP.
I booked a direct flight on Air Transat and put my bike in a plastic bag since I didn't have any place to store a bike box and I was thinking of riding right from the airport across Paris. When I landed it was overcast so I unpacked my bike and took a train into central France and rode the 35km to my hotel, passing the Louvre and the Eifel tower along the way. I also rode through Versailles and saw the palace but didn't stop to see anything else. I was surprised at how hilly it was getting to my hotel in Montigny-le-Bretonneux. My hotel was a 20 minute walk from a huge grocery store in the town of Saint-Quentin-en-Yvelines, otherwise there was nothing else around. There were other cyclists staying there, including a fellow Ontario rider!
The start for PBP had been at the French National velodrome in Saint-Quentin-en-Yvelines but they moved it farther out of the Paris Metro area to a place called Rambouillet which is the home of the national sheep farm. This town was also part of the Tour de France this year so they left all the bike decorations up for us! Thankfully this was the last town on the suburban trains coming from Paris so it was easy to get to. I remember people online saying the trains would be overflowing but there was plenty of room for everyone.
The bike check/registration happened on the Saturday before the ride start (three possible time choices: 90, 84 & 80h) The 90/80 hour groups all started on Sunday evening and 84h groups left on Monday morning. 84h bike check/reg was also on Sunday. Saturday was really rainy so I chose to take the train to the bike check instead of riding as I'd originally planned… I still ended up standing around in the rain for an hour or so as it chaotic despite having signed up for a bike check time. I missed the Canadian/Ontario riders photo so I just got my packet and left town after dropping off my bags for a drop bag service that would provide me clean clothes along the route instead of having to carry all my changes of clothes. I also threw a bunch of granola bars in the dropbags so I could have something besides baguettes to eat on the route. I had worried about finding enough vegan stuff to eat as French food is very meat-centric.
Unlike most brevets, this one doesn't require the use of a GPS track or a cue sheet since the route is well signed in most places. I had the tracks loaded as I found them useful at night time to alert me to turns and to figure out how far the next control was. They were also useful for riding in the heavy fog we encountered during the first two nights as I could at least have an idea of which way the roads were turning, visibility was probably only 50m or so. I remember feeling really alone during the second night/third morning when the fog was thickest for me.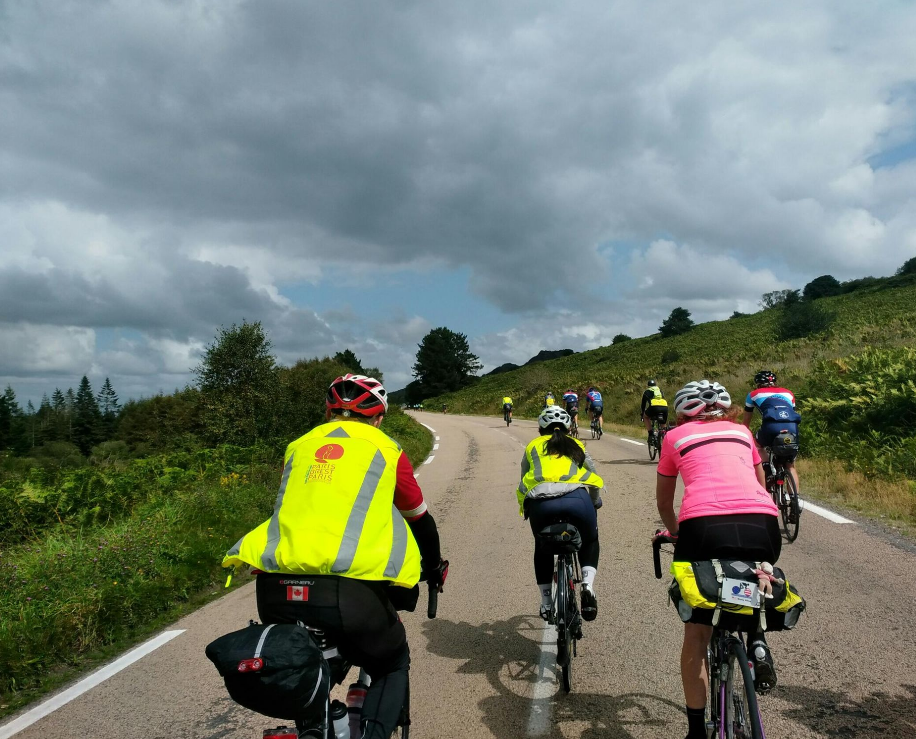 The weather on the ride was favourable, though I had been training in hotter weather so I found the cold a bit much, I had enough gear with me to be able to adapt to the range of 3-30C temperatures that we encountered. The fog that we rode through was really thick so it soaked every surface with water. There was a headwind on the way out to Brest, thankfully it was not a strong one but it was constant so it did grind me down a little more than I'd have liked. It was almost a perfect westerly wind so the route offered little relief from it. The weather on the return leg was even better without any real winds, rain, or fog on the last night it made for very pleasant riding.
Many people commented that it was a mistake to do a 1000K only two weeks before but I didn't really notice any problems from it and it allowed me to completely test my bike setup as well as make sure the new cables and stuff all worked perfectly. I had no flats or any other bike troubles to speak of… I did have to turn the barrel adjusters on my front shifter a few times but otherwise it the bike was mechanically flawless. Every control also had a professional mechanic on duty 24h a day which is comforting to know. Tubes, tires and other stuff is for sale at the controls.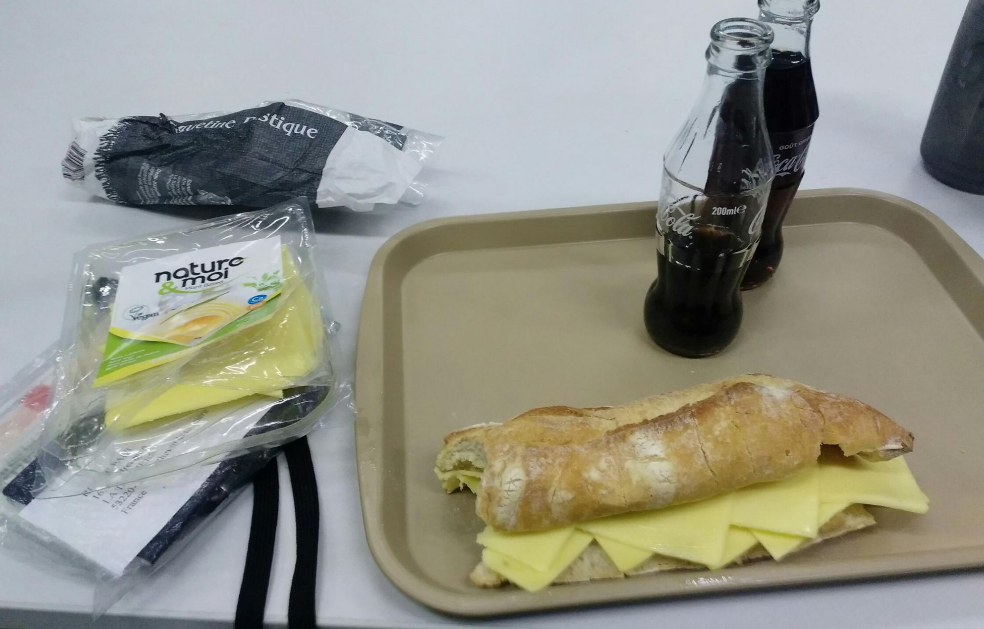 Nutrition along the route is available at the controls, which are typically in schools or other community centres. Each control is run by a local cycling club so the food varied a little bit but I could count on plain pasta, baguettes, coke, fruit, coffee, veggies, and sometimes other treats. Vegetarians would have an easier time since there is basically butter or eggs in every French baked good. They sold beer and wine at the controls as well yogourts and other things. Many times there were fruit cups or apple sauce. Some controls had veggie sauce but a lot of times it had meat in it or there was a heavy cream sauce. Others told me the sauces were a bit bland but I think that's probably on purpose so folks don't get too much tummy trouble from spices and whatnot. I worried too much about finding food and could have relied almost completely on baguettes but the granola bars I packed were a nice change of pace. Next time I go I'll make a point of stopping at the grocery stores to get some vegan cheese since that's a thing in France too.
The control points also have a gymnasium or other room full of cots or mats for sleeping. There is small fee charged for this service and they don't provide ear plugs or anything. I hadn't had good experiences trying to sleep in a similar setup in 2018 so I reserved an airbnb in Loudeac for two nights so I could have my own shower and bed. I didn't get great sleep either night but it was nice to be clean and rest in the quiet for a few hours each night. I had figured if I needed more sleep on the third night I would be tired enough to sleep at a control and I did so in Mortagne-au-Perche where I got the best 90 minutes of sleep I had during the entire ride.
Many riders bring "space blankets" and just sleep on the side of the road but that doesn't appeal to me… though I did stop and sleep on a nice wooden bench for 20 minutes a few hours after I left Loudeac on the return leg as I was feeling really tired and wasn't making much progress. I saw many riders weaving and bobbing as they had long past the point of exhaustion… I didn't want to crash or get too wobbly so it was time. The difference I felt after the 20 minute nap was remarkable and I was able to ride above a 20km/h after this where before I was struggling to keep a 15km/h going.
The countryside in Brittany is pretty hilly, though the grades are pretty gentle and the climbs tend to be long so it isn't difficult climbing but I required discipline to keep the intensity in check. I also took advantage of my hefty stature to enjoy fast descents that usually followed every climb. At night one would reach the top of a climb and turn a corner only to see a long line of taillights slowly snaking up the next climb a few km away! The only real sections of flatter terrain were the ~100km close to the start/finish, especially the last leg from Dreux to Rambouillet seemed especially flat to me.
The diversity of riders on this ride cannot be compared to anything I've ever seen before… people from all over the world come to this ride and this year was the biggest field they've ever had. I had the pleasure of riding with people from many different countries and on all sorts of bikes. I saw fat bikes, tandems, recumbents, velo-mobiles, folding bikes and plenty of very sweet road bikes. There were fixed gear riders and folks on classic rigs from all time periods. Some people were riding the bikes on hybrids and carrying knap-sacks. I know people finished on all kinds of bikes so pretty much anything human-powered with a transmission can used for randonneuring. In 2015 there was one dude that finished PBP on a kickbike.
Most of the scenery on the ride was very pretty though it was a bit repetitive at times… every town seemed to have a church on a hilltop and some winding roads going to it. There were lots of beautiful roads though and unlike southern Ontario very few of them went in straight lines for very long. Fields of corn and bales of hay were common sights outside of the cities. My favourite part of the ride for scenery is between Carhaix and Brest, where there is climbing up to the Roc'h Trevezel, one of the higher points in Brittany. The climb wasn't steep in places but it was fairly similar to climbing up Hockley Valley in Ontario; though it was a bit longer and climbed higher, the grades were never extreme. The views were more expansive than Ontario too; it wasn't very humid so visibility was good.
My ride started at 18:45 and we got our stamps and were out of the gates going like bats out of hell. The excitement and adrenaline of the mass starts as well as the strong groups made it difficult not to ride a bit on the hard side during the first 100km as everyone bounced and jostled between the big groups. Things settled down after the sun went down and the first stop at Mortagne-au-Perche, 117km into the ride. This wasn't an official control so one didn't need to stop but I chose to stop and eat something since I was hungry and wasn't going to make the next ~100km on granola bars alone. Cokes, pasta and some bread filled me up and there was some fruit salad and other goodies I ate here. I hadn't expected to find any food or water before this point but did snag a baguette from some people selling pop and sandwiches in a village.
The first official control, at Villaines-la-Juhel was busy as many people were eating and sleeping. I didn't know there was a separate cafeteria at this control so I ate at the quick-food line and had some baguettes, a bol de cafe and coca (Slang for coca-cola in France). I was kind of tired so I spent a bit more time than I'd have liked at this stop but given the 90h time limit I wasn't worried about the control times at this point in the ride… next time I might try and build up a bigger cushion for sleeping now that I've done this once. This control also had enough rental toilets so there wasn't a wait to use them.
The next control, at 306km, was Fougères and I had a drop bag at this stop. I needed to stop and get my change of clothes to carry with me to my airbnb in Loudeac. I had rode passed the drop bag stop and thus had to backtrack a few km to find it. I probably wasted an hour screwing around here and in hindsight it might have been better to just have one drop in Loudeac but I'd heard too many bad reviews about the American company that ran that service. Other countries seem to run their own drop-bag service but that requires a lot effort as well renting a truck and having a driver so I can't see anyone doing it for the 50 Canadians that might use it.
Loudeac was at ~450km and I spent a lot longer getting there than I'd hoped but I made it to my airbnb by 9pm, and even had time before that to stop and get a vegan pizza at dominos. Across the street from the control was a brasserie that I walked into since I though the sign also said restaurant, but the bartender said they didn't have food and he was the one that pointed me in the direction of the pizza. Another patron at the bar saw the Canadian flag and bought me a "demi" of 1664 and they chatted with me, asking about the ride and what I thought of France so far… the bartender complimented my French and the guy that bought my pint quipped that my French was better than his English and everyone got a good chuckle out of that. I had so many little encounters like this one along the way, speaking enough French to converse with people really helped me at controls and being able to chat with folks was such a boost to my spirits!
My interactions with the French people in the controls, at stores and along the route were definitely the highlights of the ride for me. I had planned to stop and enjoy the roadside offerings whenever I could and I ended up spending a lot of time chatting with people along the way. My French isn't that great since I've been out of school for over 20 years but it started to come back and I could have basic conversations about where I was from and how much people's support meant to me. I have some postcards to send now as some folks wouldn't take money or donations and only asked for a postcard in return for the coffee and treats offered.
In Loudeac I slept, showered and went back to the control for more food for "breakfast" at 3am and ended up running into Dick Felton who started at the same time I did. He was cold and had been riding through the night… pretty sure he needed the breakfast as much if not more than me! We parted ways after that and unfortunately he would later abandon the ride… I'm sad he abandoned as he was a great encouragement for me to get to Paris as we did two 600K rides together… but I was also glad, in a way, he chose to abandon; in 2015 he fell asleep on the bike and broke some ribs… still finished the ride but was really lucky he didn't have worse injuries!
The ride from Loudeac to Carhaix was probably the lowest point for my morale, the thick fog had appeared and I was soaked from condensation. My jacket was no longer water resistant in way whatsoever. My average speed was dropping like a rock and I was starting to shiver as well… I thought about quitting here but there's not really any place to go except the next control or the previous one… due to the sleep stop, extra time spent eating, and the slow pace leaving Loudeac I was worried about the next control's closing time and decided the only way to get warm was to work harder. I started going much harder (but still relatively slow) up the hills and would pedal through the descents instead of just tucking and coasting as I had been. An hour or so of this I was starting to feel warmer. I had made up most of the lost time, though I was still a bit late coming into what turned out to be a secret control (it was listed as a food stop) so I got some quick food and used the can, and set off for Carhaix trying to make up more time. The twilight of dawn had started to appear and I was getting quite close to Carhaix so I would be okay for closing time but I didn't let up the pace as it was still quite cold. I know Canadians are supposed to be used to the cold but I spent most of the summer anticipating a 35-40° heatwave and did a lot of riding in the heat. The lowest temperature I saw on this stretch was around 4C, much chillier than forecast on the French weather service, but they only gave temperatures for the larger towns so of course the countryside would be a bit cooler… the clear skies meant that cold air from higher altitudes just fell right to the ground at night and would only start rising again once the sun had been out for a while. As has been my experience on other overnight rides, the appearance of the sun really drives away the sleepiness and I would soon awaken completely and feel generally quite good as long there was some sunshine.
When I left Carhaix I ended up riding with a group from Southern France, Cyclo Club Mornac Seudre. I had a hard time understanding their French as their accent was a bit different than the standard Parisien one they taught us in school (Why we didn't learn in a more Québecois accent is beyond me) . They weren't riding in a very tight group or rotated in a paceline, but it was a bit more organized than most of the "blobs" I encountered on the road so I stuck with them until Brest. They had some strong riders and I did some turns at the front too. I think they appreciated that I tried to talk to them in French and that I helped out a bit, especially on the descents… there was another big guy in their group that was taller than me so we'd lead the charge on the downhills.
Coming into Brest the ride goes over the older bridge beside the highway bridge, and it's a cable-stayed bridge so it's kind of scenic. I stopped for some photos here and lost the guys from Mornac Seudre. The streets in Brest were busy as it's a bigger city and a busy industrial port as well. The route doesn't quite get down to sea level but it was pretty close!
On the way back out of Brest I'd run into two riders from Ottawa and we rode together back up the Roc'h Trevezel, with JungAh leading the charge… she's a very strong rider and was pulling not only me and Peter but sometimes a few others up the hill. I helped out a bit when I could and told her to hang on once we reached the top but she couldn't keep up the 70k/h I was probably going down the big descents, and Peter was starting to feel sick at this point… when we reached the control in Carhaix we ended up splitting up at this point but would continue bumping into each other on the way back to Paris.
I ended up bouncing around between groups and solo riding on the way back to Loudeac and my airbnb. This time I didn't get any pizza but I had a bunch of food with me so I quickly got a stamp and headed off to my airbnb. Unfortunately I got a bit lost trying to find it and wasted a bit of time riding around town. I got another 3 hours of low quality sleep but I appreciated the warm shower almost as much as the quiet. I returned to the control for some warm breakfast before leaving town.
The next official stop was a food/support control at 843km called Quédillac. I didn't stop here on the way out but since it was another cold morning and I was feeling sluggish I decided to stop and get some warm food. I had a tough slog getting there and even made a wrong turn and did 1.5km of bonus work. Another rider followed me and I managed to communicate the fact we were off-course to him despite no common language. Another rider blew past us going the wrong way and ignored both of us yelling in whatever languages we knew… they'd realize eventually after a few km of not seeing any riders…hopefully.
I was very close to the cutoff time getting into Tinténiac but I didn't care… my attitude was to keep riding and they could take my control card from me if I was heading into hors delais territory. I don't think they do take people's card unless you are clearly incapacitated or do something so outrageous that you're DQ'd on the spot. I don't remember much of the ride to Tinténiac but it was morning on the 21st and warming up nicely. There were sometimes palm trees growing in the towns and people's front yards… I'd seen them on the way out and meant to stop and take pictures but I didn't want to slow my roll. Also along this stretch was a village set up with massive grills cooking sausage gallettes which did kind of smell good and gross at the same time. I did convince them to hook me up with a baguette and coffee though, I explained I couldn't eat greasy foods on the ride and they understood. I told the guy I'd get enough fat after the ride and he seemed pleased at that approach to recovery.
Fougères was the next stop at 923km and I was starting to feel that finishing under 90 hours was a real possibility. I felt strong at this point and was loving the ride. I'd been leapfrogging some of the other Huron Chapter riders for the entire ride but they'd started 45 minutes ahead of me so it was usually just arriving at a control as they were leaving but we hooked up in Fougères. They had a registered support vehicle and I sat with them on the roadside for a bit, shared a beer with them and then set off for my dropbag. I decided to get some food from the grocery store before leaving town as I wanted something a bit different and got lucky and found some vegan cheese slices. They were top-notch stuff and made the baguettes at the next control very tasty.
Leaving Fougères there was a nice long climb and the afternoon was getting quite warm, probably around 28C. I do like the heat and was feeling great going up this hill. I hooked back up with Brenda from Windsor as we rode together toward Villaines-la-Juhel. It was along this stretch that her husband told her he was going to abandon as the sleep deprivation and a mechanical were just too much to handle. It's tough to have your partner abandon but Brenda is a strong rider and I wasn't worried that she wouldn't finish, I'd just hoped to be able to ride with her for a bit longer.
It was along this stretch that I also met up with Bob Kassel, the guy I rode the granite anvil 1200K with. We did that together since it was the pre-ride and we were the only ones. Needless to say we get along well and had a lot of fun trading jokes and barbs as well as catching up and chatting. I had done a fair bit of solo riding during this ride so it was really nice to have people to talk to! I think my jaw was a bit sore from flapping my mouth for so long!
Brenda decided to try and get a bit of sleep in Villaines-la-Juhel, 1012km into the ride, and I ate in the quick-food section but was still hungry so I wandered outside and ran into Carey from the Huron Chapter. We decided to get some food together and found our way to the restaurant section. This is the control that has young children volunteering to carry your tray to the table for you so that's pretty cool. I also had some more beer here… I usually don't drink but this was a sign in French for "local draught beer" so I had to try it… dunno what kind it was but it was a lot better than 1664 or Heineken that they were selling in cans. I ate a ton of food here and they had a full veggie meal that included real ratatouille as well as some other veggies and pasta. I also had another "bière locale" before finishing.
Evening was coming as we set out to Mortagne-au-Perche at 1097km. We had a good couple hours riding with some other folks and ran into a really nice rider from the San Fran area and we stuck together for a long while. Unfortunately I lost Brenda and Stacy before making it to Mortagne-au-Perche, as the climbs and cold were starting to take a bit of a toll on me and my useless jacket. I knew that I would need to sleep if I wanted to finish the ride so I found the sleeping area after getting my stamp, some food, and using the can at the control point. For 3 euro I got a mat in a dark gym and an old wool blanket. I had a bag of dirty kit from changing in Villaines-la-Juhel so that made a fine pillow and I was able to let my other useless jacket dry out a bunch while I got 90 minutes of amazingly deep sleep. I had brought earplugs with me which was great as there was a giant man snoring beside me that was as loud as a chainsaw. I kept pushing the earplugs in until I couldn't hear him and wasn't more than a few minutes drifting off.
The ride from Mortagne-au-Perche to the last control of Dreux wasn't too bad, the hills were starting to flatten out a little bit and we'd descend more than we'd climb along this stretch. The sunrise was welcome during this time and I once again felt alive basking in its warmth. Most riders were half zombie by this point and it was dangerous to follow too closely… many people couldn't hold a line and people would just stop in the middle of the road too. Big blobs of riders would coalesce behind anyone doing a decent pace so I ended up with a few followers but no one wanted to work together so I just did my best to stay away from others.
In Crécy-Couve, on the way to Dreux, I got surrounded by a "blob" as we entered town and there was street furniture along the edge of the road. I tried to signal those behind to move over to the centre but one guy whipped around the first flower box and then rode straight into the next one. He looked like he landed right on his head and I was worried for him but he insisted he was fine and got back up and rode on. He ended up passing me a few km later as I stopped to get out of the giant blob after that crash. It wasn't much farther along this stretch that I came upon a couple ambulances, the gendarmerie, paramedics, and some other people were attending to a rider lying in the ditch. I have to say I became a bit emotional seeing this, realizing it could have easily been me. I don't know if a car hit him or what happened, since there was a car parked askew on the road. I didn't stop to gawk or take photos (that's a trashy thing to do), and didn't want to pester the emergency workers with questions so I rode on.
The control in Dreux was mostly empty and also running low on food! I waited for some baguettes to be baked and got some cokes and coffee. I was only 30 minutes or so at this control but I did run into Guy from Ottawa here and he was worried about finishing but I tried to be encouraging and told him he was a strong rider and shouldn't have any problems… plus it was mostly flat Dreux.
There was a big climb leaving Dreux but after that the ride felt pancake flat after all the hills I'd climbed by this point. I had until 12:45 to finish in under 90h and I left the control around 9:45 so I had three hours to cover 43km or so. The last leg had been changed a few days before the start due to unexpected construction so many people didn't have a GPS track but the arrows along this stretch and the long line of riders made it easy to find the way. Dave Thompson had shared a gps track with turn-by-turns of this new section so I was prepared for this and didn't have to worry about getting lost. I was feeling so good at this point since I knew I'd make it to the end under the time limit. I used this positive energy and set a decent pace for the last leg, averaging close to 25km/h, which was pretty quick for having ~1170km in the legs… I passed many people and heard one guy say to his buddy that nobody should have form that good after riding that far!
Getting into Rambouillet we came a slightly different way than we left so it was all new scenery except the last 3km. Most of the route went through some forests, including the "Domaine de la Butte Ronde" like a child I snickered, even though I know butte just means hill, not bum. I was taking the laughs any way I could get them! The last bit of the course before the finish line included a section of cobblestones and being on a bike made for Paris-Roubaix I hit them at speed and shuddered like a jackhammer across them. After that it was into the national sheep farm and through a mess of people, camper vans, and whatnot to get to the official timing matts and the tent where I could get my stamp, surrender my control card and pick up my medal.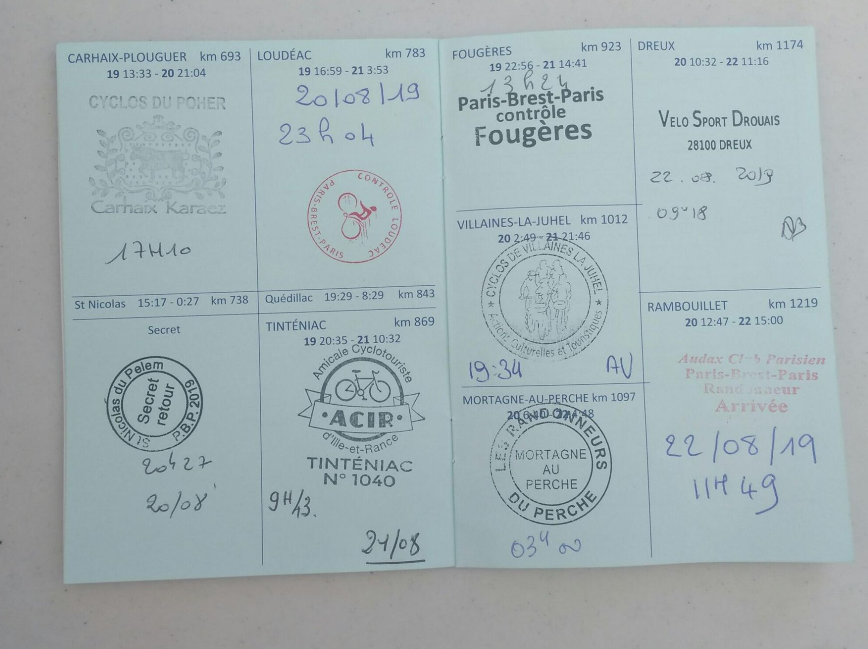 The first draft of this report was written while still basking in the glow of making it to the end and feeling so strong at the last bit was really encouraging. I made a lot of good choices during the ride and felt like I'd trained properly and planned a good ride. The drop bags and the airbnb were good choices, though I could tweak that aspect of the ride and make it more efficient in the future. I would like to try and do an 84h start so that I can get more daytime riding as well as a good night's sleep before-hand but there's a lot less company on the roads so who knows! It was an amazing experience and I don't think there's anything that compares for an amateur cyclist! I didn't take as many pictures on this ride as I usually do since I was worried about time but I think I captured enough to give the reader an idea of how it is.