Ride report from Peter Leiss:
Earlier this year Bob McLeod asked me if would be interested in participating on his Flèche Team. It has been many years; in fact it was the last century, since I had done a Flèche. I agreed immediately.
Bob had devised a route that uses the Waterfront trail as the route that is intriguing to say the least. He revised the route 7 times after going out and route checking sections to ensure that it worked.
Stephen Jones, Erin Marchak,  Bob McLeod and myself met at the Amsterdam Brew Pub to enjoy  a meal prior to out departure. This may not have been the best planning as it was the first good day of spring on a long weekend resulting in exceptionally long wait times to get seated. Standing in line for over an hour before riding for 24 hours is probably not what you would want to do. This did however give us all time to catch up and introduce ourselves to Erin who a new Randonnneur this season. We finally were seated and enjoyed the first of many meals on this Fleche. Peter Hoeltzenbein joined us later after riding down from Markham.
The weather had cooled down so we added clothing for our departure at 9:15 pm. So off we went on the Martin Goodman trail, which forms a part of the Waterfront Trail through Toronto. Now the Waterfront Trail is a little complicated in Toronto requiring 3 pages of cues to get to our first control. This resulted in the occasional stop to determine the exact route. We also had many wildlife sightings along the way, mostly cats and raccoons and one skunk. This section also contains the most severe climb of the route that tops out at 17%. More wildlife was sighted as we proceeded along the trail out to Rouge Park. It must have been quite a surprise to the young people out enjoying wobbly pops and campfires to see five sets of bright headlights approaching out of the darkness.
Up and over the foot bridge that crosses the Rouge River and on to Whitby of to our first control at 66 K. After eating at Denny's we continued on our way to Cobourg. This section is where things got interesting, as the Waterfront Trail comprises of everything you could possibly ride on. Comprised of roadways, limestone screening pathways, dual track dirt paths, single-track dirt paths and a section of sidewalk. It is a little disconcerting to be in the middle of nowhere heading down a broken roadway that looks like no traffic has been on it in 10 years signed no exit to search out an unlit entrance to the trail that proceeds even further towards what appears to be nothing. Fortunately Bob had ridden these sections and knew approximately where to find the trail.
More wildlife in the form of deer and one fox. We also passed by the Darlington Nuclear Plant that has signs advising that Armed response would meet anyone foolish enough to jump the fence. The trail finally stayed on open roads after Wilmot Creek. This an area that I am familiar with having ridden these roads on the Tandem Club rides. As we where now approaching 4 am we slowed down considerably. Anyone who has ridden overnight before will understand that there is a natural desire to sleep around this time and that it is something that experience is the only tool to get through this patch. Our target was to be leaving Cobourg 141 K at 5:30 am. We all regrouped here and had another meal at Tim Horton's. This is one of only a few on the route that is open 24 hours other than drive through service.
Our next stop was Brighton at 186 K with an estimated leaving time of 8:30 am. Now that the sun was up the groups pace picked up again. We stopped at Lola's Cafe where we ate again and had conversations with some locals and the staff. They where a little amazed that we had ridden our bikes from Toronto but even more so when we mentioned our destination and what we where attempting. It is interesting to note that the response is now one of admiration of the effort. This is in contrast to my previous flèche where people just thought we were nuts. The roadways along this area are all signed to advise drivers to share the road and bike route. The drivers are quite courteous when passing and the traffic was quite light.
The next target is Picton 248 K with an estimated ferry crossing at Glenora of 1:30 pm. We had banked some time so we had a leisurely stop in Picton where we had lunch at McDonalds. Having spent a lot of time in Picton I knew that it would be exceptionally busy a nice long weekend and was not disappointed. There was construction that made whats would be normally very heavy traffic even more so. We arrived early at the Glenora ferry and continued along the Loyalist Parkway/Waterfront Trail towards Kingston. We had a secret control at a pullout along the Parkway at 263 K and let there at 2 pm on our way towards Kingston.
After passing by the penitentiaries Millhaven, Joyceville, Bath, Collins Bay and Kingston which is now a prison museum Another stop to eat in Kingston at Subway. You may be detecting a pattern here by as there seemed to be a lot of eating on this flèche. Now Kingston is our ultimate destination however we would have to go through to Ganauoque to ensure we met the distance and time requirements.
We continued up through Kingston toward Historic Fort Henry where we have a conundrum. In order to continue on our route we would need to pass through the Canadian forces base. This was signed no trespassing. After discussing our options a local resident told us it was no problem that everyone goes through. So on we went hoping that we would not be detained.
Onwards to Ganaouque 343 K through the rolling hills. We had planned to leave here at 6:30 pm as well as another planned stop to eat. It took a few minutes to find a suitable restaurant however the service was a bit slow. Once we explained what we were doing and out time lines the owner who is a British expat and a cyclist sorted us out. We left on time and stopped at 7:15 to record our 22-hour time distance at 347.6 K.
Now for the final push back to Kingston. As you may know you required to ride at least 25 K over the last 2 hours of a flèche, which may not seem to be a daunting task. However after 22 hours of saddle time this becomes a crucial issue. We had no difficulties in meeting this requirement and Erin led us as we finished at Denny's in Kingston with 375.3 K.
After getting cleaned up we met in the restaurant once again to enjoy a meal and reminisced of our accomplishment. This was the longest ride for all of us this season so and it was the longest ride the Erin had ever done all in one go. Congratulations go out to the riders for completing this challenge and particularly to Erin to attempting this in her first season. Well done.
All three teams completed the flèche this year with Ottawa, Huron and Toronto each providing a team. We all met in the morning before heading back to our homes for a well deserved rest.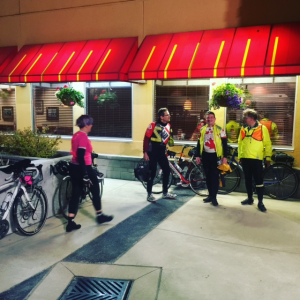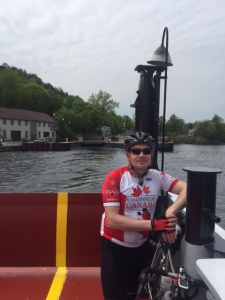 Stats:
Total Distance 375.3 Kilometres
Total Time 24 hours
Elevation Gain 1937 metres
Average speed Total 15.6 KPH
Average speed moving 21.4 KPH
Calories burned 15,511
Calories inhaled hard to say we ate a lot.
Minimum Temp 7 C
Average Temp 14.6 C
Max temp 20 C