Ride report from Carey Chappelle:
YES … HONEST TO GOD … THIS BREVET ACTUALLY HAPPENED IN THE MONTH OF FEBRUARY!
Congrats to all of the participants who were comfortable enough to even attempt Huron Chapter's South Bruce 200km Brevet this past week-end … Ken Jobba, Tim O'Callahan, Liz Overduin, Patrick Whitehead, Brenda Wiechers and myself.
Patrick completed this Brevet, but was over the time limit of 13.5hrs. He let me know how much he loved the ride, but picking up Orange peels and dropped route sheets simply cost him too much time!
Ken, Tim, Liz, Brenda and myself all stayed together and finished successfully in 10hrs 47mins.
Friday at 1600hrs, I only knew that Liz and myself were going to attempt the South Bruce 200 on Saturday. Friday's weather was wet and windy, so it looked like no one else was going to attempt it. Later in the evening, Tim e-mailed me to let me know that Brenda and himself were on their way to Port Elgin to join us Saturday for the Brevet. Perfect, 4 people anyway! Ken had asked me to prepare a Control Card for him, just in case he made it up. Patrick let me know he was not going to attempt the South Bruce 200 but do another ride from home. Surprise! Surprise! Saturday morning, Ken and Patrick showed up! Fortunately, I had an extra Control Card with me!
Traditionally, February winter in Port Elgin means … closed roads … stop signs no longer exist … and snow blowing was what everyone did for fun! This past Saturday, no snow blowing was going on, roads were open and we had to actually Stop where Stop signs existed!
Pedalling to the first Control in Walkerton, five of the six Randonneurs planned on a 10 minute stop at Tim Horton's, which turned out to be 30 minutes. We headed to the next Control in Wingham only 43 km away. Scenery was breathtaking! Some roads had snow and ice on both sides but nothing but asphalt for us to pedal on!
Weather -2 deg C to 3 deg C, SUNSHINE and amazingly …only 12km/hr Winds!
Having a great lunch in Wingham, we headed towards Kincardine. Again, with only 12km/hr winds and SUNSHINE, everyone was simply loving the ride! Personally, having done this Brevet many times, this one is my favourite! Pedalling along, loving life … then …
SURPRISE … SURPRISE …. SECRET CONTROL just outside Kincardine!
The INFAMOUS Bill Little had set up a Secret Control, provided hot coffee, water, beverages and butter tarts for everyone!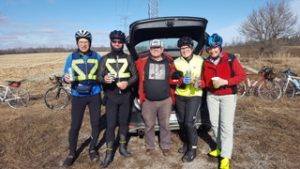 We then stepped back to get a photo of the river behind us! Notice the SUNSHINE!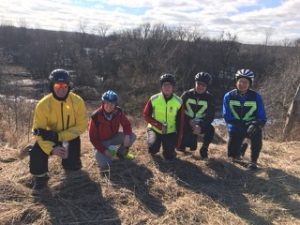 Back on our bikes, we headed to the Hawgs Breath Saloon in Kincardine for our final break before heading to the finish in Port Elgin. Everyone loved this Brevet, the Scenery second to none and above all … attempting an actual Brevet this time of year in Bruce County…
PS: Patrick actually stopped in Kincardine for supper before heading to the finish!