Fun just seeing the title eh! Everyone enjoyed 2018's Carey's Carefree Cruise 400km Brevet. Thanks to Liz Overduin who created this route!
The main goal this year was to WIN the GoKart Championship held at the Kartway in Erbsville. The only time we had done this brevet before, the Kartway was closed. By reversing the route and keeping our time down, we were able to arrive when the Kartway opened at noon. I'm getting goose bumps just thinking about what happened next!
Ken Jobba, John Maccio, Matthew McFarlane and myself (Chappy) signed the paperwork and then entered the racetrack! Fans were too far back, so I had to take our picture!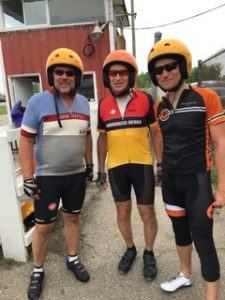 Matthew made it clear … he would be the one to beat!
Chappy was assigned Kart #1 and sat focused before the official Start.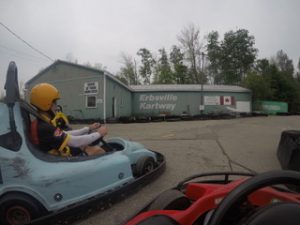 A Shotgun Blast and we were off! The race was 5 laps … the first to finish would become Huron Chapter's 2018 GoKart Champion! Chappy just about got disqualified after cutting off a woman and her baby who were heading towards their finish. The organizer simply warned him and added at least 10 seconds to his finishing time. Ken, John and Matt were very close behind for the first lap, then John moved out front but still second to Chappy. Matt disappeared so it was Chappy, John and Ken heading towards the finish. Chappy finished first with John second. Ken had just entered his fifth lap and looked into the stands to see John and Chappy signing autographs, he figured he was on his sixth lap … but then realized he had enjoyed the scenery a little too much!
Congrats Chappy!
I guess I should talk about the Brevet, although just a way to pedal to the GoKart Championship and back, we actually completed an official 400 km Brevet. Congrats to Chappy, John Cumming, Jerzy Dziadon, Dick Felton, Ken Jobba, John Maccio, Matthew Mcfarlane, Jim Raddatz and Sergii Tsymbal.
Unfortunately, Charles Horslin's knee started acting up an hour or so after he started, so he called it a day and let Chappy know via an e-mail. Chappy, Ken, John and Matthew were in the Jen's Cafe (Mitchell Control) for a Great Breakfast when they found out. The rest of the Randonneurs skipped breakfast, basically had their Control Cards signed, a coffee/pop and a muffin etc., then continued on.
If any of you paid attention to the weather forecast, the week before showed rain, thunder and lightning for both Saturday and Sunday. Ouch!
Saturday morning things changed, clouds all day with a chance of sunshine. Basically the clouds disappeared just after lunch and the temperature started rising!
The second Control being the Erbsville Kartway meant that if you weren't competing in Huron Chapter's GoCart Championship, you simply had your Cards signed and continued on, backtracking, which is where Chappy, Ken, John and Matthew ran into a few of the Randonneurs heading to the next Control.
The Coffee Culture in Stratford is the 3rd Control. The place to have a Great Lunch or Dinner is the Boar's Head Pub. We all sat and enjoyed an incredible soccer game on the big tv!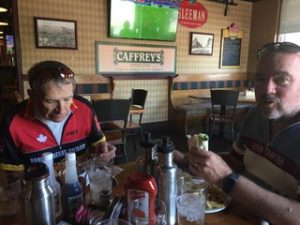 Leaving Stratford, the four of us continued on … being … the back of the pack and all!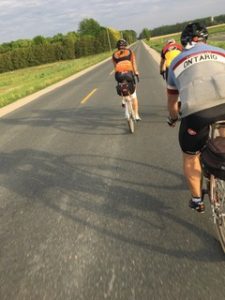 With the outside temperature being 36 deg C, we stopped in Plattsworth, time to sit in the shade and fill ourselves up with some H2O.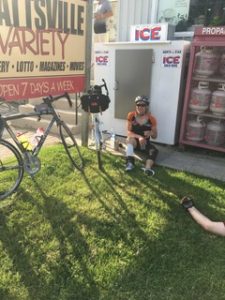 After leaving Plattsworth, the Randonneurs headed to the next Control in Woodstock. Once Control Cards were signed and back on track, Chappy noticed a Bowling Alley and suggested … ONE GAME?
Highlight of the Night was seeing what looked like a fellow Randonneur who had missed getting his Control Card signed and was heading back to the Control … but it turned out to be Terry Payne on his new TRUE NORTH!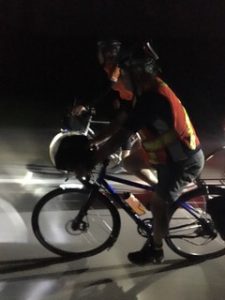 Terry told us how his wife was relaxing on the couch just before bedtime, he simply dressed into his cycling gear and told her he'd be home around 3…
I know, no questions asked!
As we pedalled through the night, weather was perfect. No wind, >10 deg C and we owned the roads! At the finish we took a great shot of John Maccio and Matthew McFarlane with their Control Cards Signed.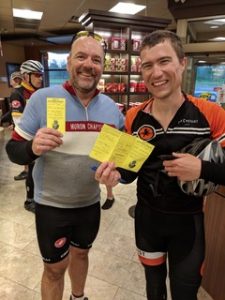 Congrats to Matthew for completing his first GoKart Championship … I mean 400 km Brevet!
Now, being without sleep, John and Matthew suggested that I follow them to ensure we were all driving safely. We loaded the bikes and headed home! Thanks Gents!