Ride report from Carey Chappelle:
This past Saturday, the Huron Chapter Hosted the 2018 Much Ado About … To Kill A Mockingbird! A 200km Brevet that included a play in Stratford.
Congratulations to Darrell Bierman, James Carroll, Carey Chappelle, John Cumming, Chris Greig, Ken Jobba, Con Melady, Rick Meloche, Tim O'Callahan, Liz Overduin, Jim Raddatz and Brenda Wiechers on successfully completing this Brevet. Check out the smile on everyone's face!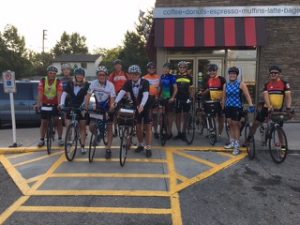 Nothing better then a blue sky, next to no wind and a group of 12 Randonneurs developing an official peloton!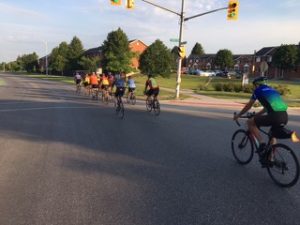 We passed by a beautiful church from the 1800s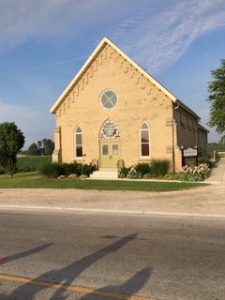 The peloton had an average speed of 30km / hr. all the way to the first Control, Anna Mae's Bakery, in Millbank. Everyone had a quick break then headed out together to Stratford.  OK, 8 headed out together, leaving Chappy and 3 others a little behind as Chappy had a screw loose (not uncommon!) and had to use a tie wrap to support his front fender! Everyone arrived at the second Control, the Boar's Head Pub in Stratford just after 12:30hrs where a great lunch and a few stories were enjoyed on the patio!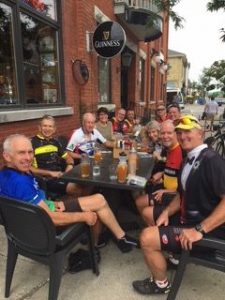 Jim had the best story to tell!
Jim let us know about an incident at Tim Horton's, Southampton about 480 km into Huron Chapter's Brouse's Beach Brouser 600 km Brevet a few weeks earlier. He placed his bicycle by a window where he would sit down inside, enjoy a coffee and a breakfast. He was also offered a souvenir glass Tim Horton's coffee mug that he couldn't resist! Carrying the tray, he ran out of room and had to stretch the tray far enough away to get around some others standing in line.  Road Shoes …. Well … ass over tea kettle! Everything was lost along with some of his pride! Fortunately Tim Horton's staff replaced everything, even a new coffee mug and cleaned up the broken glass!!
Around 1330hrs, 7 of the 12 Randonnuers headed to the play "To Kill A Mockingbird". The other's headed out to the finish.
"To Kill A Mockingbird" was simply INCREDIBLE!
This story showed us how much takes place in our periphery and, conversely, how our own lives can be peripheral to others. Mockingbird was concerned not with how racism ends a black man's life, but how a white child's psyche was affected by witnessing the events! We were all forced to question yet again what layers of humanity remain invisible to us! I could go on an on but it would simply be better for everyone to experience this PLAY!
To Kill A Mockingbird, a 2hr 40min play had one 20-Minute Interval where the audience could step outside, enjoy some sunshine and refresh themselves. The Ontario Randonneurs gathered together on the second floor patio, enjoyed a beverage and had their photos taken by a couple who were visiting Ontario, from Amsterdam. Liz let them know how she was from Amsterdam, then had them take a photo or 2 of us.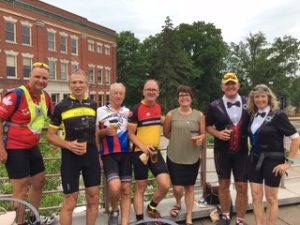 With only 3 mins left, an Audience Alert came out to let us know to return to our seats. The husband of the lady who was taking our photos figured his wife simply hadn't heard…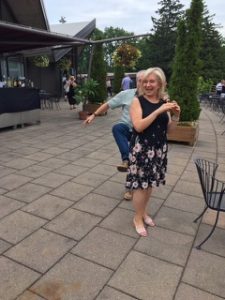 We returned to our seats on time and had to simply focus on what happened next. We wondered what compels some to vehemently justify the murder of Coulten Boushie, the assault on Dafonte Miller, the deportation of Abdoul Abdi, the killing of Abdirahman Abdi? What did the justifiers feel was at stake? What part of the centre is threatened if justice is served in the margins? Again, we can only recommend seeing this play to understand what happened in 1930 many years ago!
Exhausted, we wiped the tears off our faces and headed to the finish on our bicycles. Everyone mesmerized with what they had seen … arrived at Tim Horton's at 19:33hrs had our cards signed, hugged each other then headed home.
WOW!
Tim O'Callahan – Thanks for taking care of the Stratford Festival for us!
Liz Overduin – Thanks for initiating this Brevet, I couldn't believe we had 12 Randonneurs doing this ride!
Jim Raddatz -Thanks for YOUR story! I'm still laughing!!