Ride report from Carey Chapelle:
The Huron Chapter hosted the BIG BAY 200 this past week-end. Congrats to myself (Chappy), Charles Horslin, John Maccio, Matthew McFarlane, Con Melady, Gwyneth Mitchell, Tim O'Callahan, Liz Overduin and Brenda Wiechers on successfully finishing this scenic brevet and enjoying the 1300 meters of climbing!
Everyone arrived at Tim Horton's early and thought they were ready to hit the road!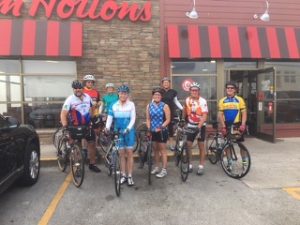 Strangely enough, the 9 Randonneurs pedalled through an intense FOG hoping that moving inland from Lake Huron things would improve!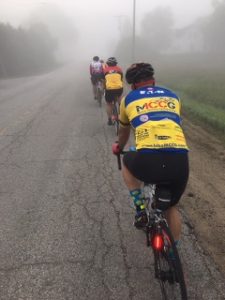 Thankfully it did! Not just a clear sky, but new asphalt!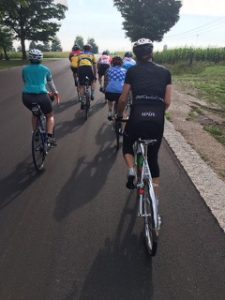 We all arrived together at the first Control, the Variety Plus Store in Chatsworth, had our Control Cards signed, grabbed a few snacks and sat down for a photo. You won't see Chappy because he was the Photographer!
Con, Matt, Liz, Brenda and Tim couldn't get closer together! Charles and Gwyneth stood close by while John was busy shopping!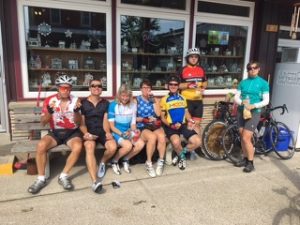 Chappy let everyone know that staying together for the next 25 km was going to be unlikely (some good climbing ahead) and that everyone should stop at the General Store in Walter's Falls to regroup and take some photos.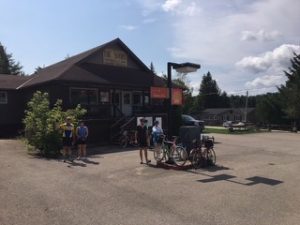 Once everyone arrived, we took a break from the SUNSHINE!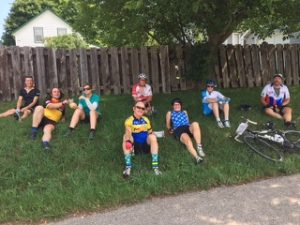 We then headed down to the Falls for a photo or two as a few of the Randonneurs had never been there before.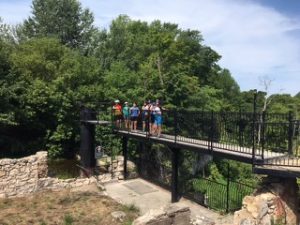 Interestingly, a model was standing under the falls having her picture taken and a couple of us were thinking about heading down simply to cool off but decided to enjoy the scenery instead!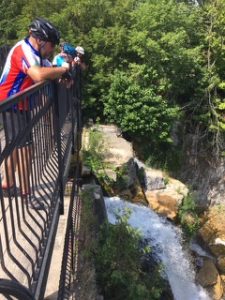 Having completed 75 km, everyone was back together and looked forward to having a lunch in Owen Sound. We would simply get our Control Cards signed at the Tim Horton's Control then head to the Mexican Restaurant, Casero for FUEL. Con and myself knew how busy this restaurant usually is and just hoped we could find room for all of us … and we did!
http://www.caserofood.com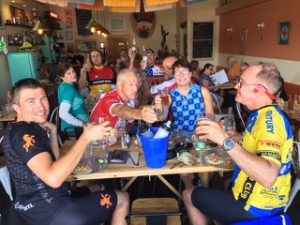 A big surprise happened next, my daughter Erika and a few of her University friends were out touring the Falls in Grey County and decided to go for lunch at the Casero! We had to take a photo for proof this happened!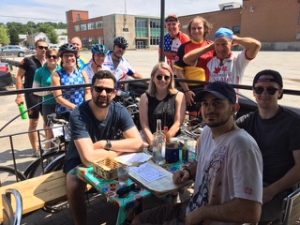 All 9 of us headed out together for the last 97 km, going through Wiarton, Sauble Beach and Southampton before reaching the finish in Port Elgin.
On our way to Wiarton, along the Big Bay Peninsula, we passed the Cobble Beach Resort and noticed some carving on a tree!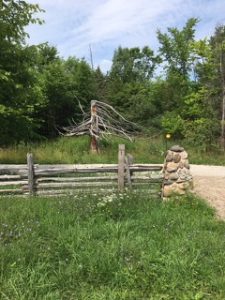 Having taking the photo, Chappy fell a bit behind the riders and met them at the next Control, the Big Bay General Store in Big Bay where everyone enjoyed some Ice Cream before heading to Sauble Beach for a quick refreshment!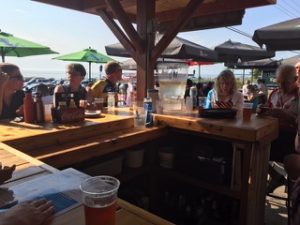 Being 30 km from the finish, we all enjoyed the scenery, the people and quite simply the fun we were having staying together on this brevet!
5 of the 9 riders decided to stop in Southampton at the Outlaw Brewery to try the infamous Blueberry Beer before heading to the Finish in Port Elgin.
A few of the Randonneurs had wondered why Chappy's wife Donna didn't do the ride then learned of the BBQ she had put together for everyone. We spent a few hours together, along with Erika and her friends, enjoying the dinner and each other before calling it a day!
Tim and Brenda stayed in town and decided to take a Tandem for a 50 km Cool Down the next day. And yes …. Brenda did finish the Crossword Puzzle on Tim's back!