Photo by Victor Crowl
Ride report by Andrea Ferguson Jones:
Stephen and I just completed our fourth (well, his third since he missed 2011 for PBP) Tour for Kids which ran from August 15th to August 18th. This is a four day event (with a two day option) that supports the Coast to Coast Against Cancer Foundation and their funding of Camp Oochigeas, Camp Quality and Camp Trillium pediatric oncology camps. These camps give kids living with and beyond cancer as well as their families the opportunity to leave the doctors and hospitals behind and spend time at camp which is excellent therapy itself. The camps have medical staff to maintain treatment protocols and provide any special care needed. For kids who are too sick to travel to one of the camps, Camp Ooch also has an in hospital program at Sick Kids that provides programs for kids while they are still in the hospital.
The ride itself consists of four days with the option to ride 100, 160 or 200 km each day. Two day and one day options are also available. This year we were riding a borrowed tandem so we stuck to the 100 km routes and more than quadrupled our tandem experience over the course of the event (trial by fire!). In previous years, I would usually ride the 100 km routes while Stephen took on the 200 km routes. There is a wide range of people on this ride from those who will never ride more than 100 km to RAAM finishers. The bulk of riders are probably in the moderately strong roadie category with moving average speeds of 25-30 km/h taking on at least one day of 160 km if not more. If you ever wanted to pull off a 6 ½ hour 200, this is the place to do it!
The ride is very well supported with a fantastic team of volunteers staffing full service rest stops and ride marshals on the road to support groups as needed. After being cheered in off the road at a typical lunch stop, you are greeted by volunteers making sure you have sanitized your hands and then you work your way down the multiple food tables as the volunteers load up your plate with whatever you like. The usual fare is wraps, fruit, vegetables, cookies, energy bars, pop, juice, water etc. There are other rest stops on the route with snacks, water and the very important porta potties. Not only are riders thanking the volunteers, but with many of them camp staff, they are thanking the riders.
The routes have changed a few times since we started riding the event. The first couple of years, we rode out of Stouffville up to Peterborough and then onto Haliburton with accommodations at Trent University and Camp White Pine. Last year, we started in King and headed up to Barrie for all three nights at Georgian College. No shortage of hills on either of those sets of routes! This year it was an Oakville start riding out to Waterloo to stay at the University of Waterloo for all three nights. Not a lot of hills on this year's routes, but they were very nice and people could find their challenges in the distances instead of the terrain. The weather couldn't have been better and this was the first year we didn't get wet on at least one day. One year, the longer courses were actually shut down due to tornado warnings!
Of course, this is much more than four great days of riding. As their mantra "Ride Somewhere Meaningful" suggests, it is really about raising money and awareness while riding our bikes. Every morning and evening, we hear from a family that has been touched by childhood cancer and benefited from the programs the ride supports. Many of these stories don't have a good outcome, but parents share how wonderful it was to give their child a bit of their childhood back through their camp experience. Rides are often dedicated to a child who has lost their battle with cancer. We have ridden for Alex, Stella, Adam, Tamara…the list goes on unfortunately. There are also stories of survival and the role that camp played in a child's recovery and the health of the whole family. One of our favourite stories is that of Dave who lost his leg to bone cancer like Terry Fox when he was only 8 years old. He didn't want to learn to use his prosthetic leg and just sat in his wheelchair. He got the opportunity to go to camp and it wouldn't be a stretch to say it changed his life. When he got home, his mother found him in the garage tinkering with his bike to figure out how to ride it with his prosthetic leg. He figured it out and hasn't stopped riding since including a cross country ride and riding Tour for Kids every year now as a marshal. All the stories inspire and make those hard points in the ride easier to bear.
Plans are already being made for the 2014 Tour for Kids. We are really happy to support Tour for Kids and the fact that 100% of all donations go to the charity. The event runs on rider fees and in-kind corporate donations and the foundation has their own corporate sponsors for their operating costs. If you would like more information about the ride or our team, please check out our website www.teamendurance.ca. We really appreciated the sponsorship support from members of Randonneurs Ontario this year and we hope that more than a few of you will join us on the ride next year. The tentative dates for 2014 are August 14th-17th. Please email me at andrea@teamendurance.ca if you might be interested in joining the team.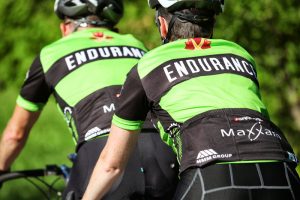 Photo by Victor Crowl