I have never heard a Randonneur say how much they loved a 1200 km brevet from beginning to the end as much as Chris Cossonnet did on the Sunshine 1200. Today he sent me an e-mail saying how excited he is about doing the 600 next week-end! It's like he was born for this sport! Chris and I got along GREAT during the ride, no problem staying together and taking turns leading. For me it was from 12-4pm and Chris led from 8pm-12am regularly. His GPS was finally working perfectly and he loved having it. Scenery … INCREDIBLE! We went to Jimmy Buffett's Margaritaville in Key West for a Cheeseburger and a Margarita the day before the event.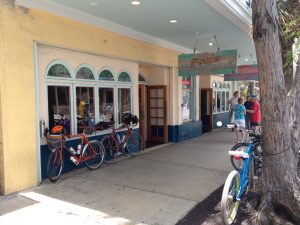 Met a number of the Randonneurs from Japan, California, Texas, Florida, Scotland, Australia, Quebec etc., The ride started at 4am, so we got up at 0230 and went for breakfast at a Denny's. There we met a number of other Randonneurs. After breakfast we headed to the Southernmost Point in the Continental U.S.A. for the Official Start!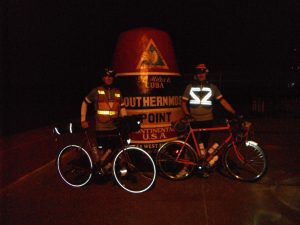 The ride up from Key West to Miami was breathtaking! The bike lane was plenty big enough to keep everyone comfortable with traffic. Surrounded by water and watching the Sun come up … Awesome!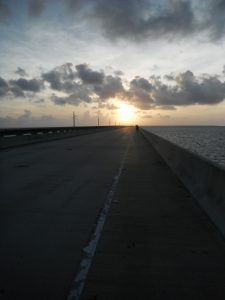 Once we were inland, we dropped in on a Randonneur being picked off the road and taken to the hospital after running into the back wheel of another rider and crashing. I called Dick Felton to let him know the story and asked him to send a Volunteer to pick up the Randonneur's bicycle. Entering Miami, we were on bike lanes until we got downtown, then we joined the regulars on the road to Miami Beach … Awesome!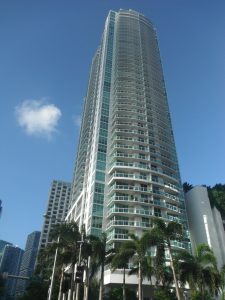 Today, my goal is to take Donna and Erika to Miami for a week and head to Key West for 2 days … I LOVED IT THAT MUCH! Chris and I met a Randonneur from Quebec who was doing this 1200. He didn't speak English, so Chris was the one who communicated with him. This individual got lost in Miami, DNF as he missed the closing time for the Control in Northern Miami and found no one who spoke French when he was trying to find his way. He called a Taxi and then unexpectedly a couple of Volunteers found him and offered him a ride to Daytona (next Control). He said No because he had a Taxi on the way to pick him up. $230 US later, he was in Daytona! Chris and I also met a Gentlemen from Australia who was doing this 1200 and told us how much he enjoyed being there. We had dinner with him and the Quebec'or the day before we went from Fort Myers to Key West. The Gentlemen and I discussed the importance of drinking enough water but not too much during an event like this but somehow he disappeared north of Miami and was found on the front lawn of someone's home …the Lady called police who eventually called an ambulance to come pick this guy up … he didn't know where he came from or where he was going. Dave Thompson sent an e-mail out letting us know his wife had flown to Florida to join her hubby and wanted anyone who rode with him to provide some answers … All of this happened in the first 430km, the sunshine and heat was having an effect on everyone, 35oC and higher all the way! Chris and I purchased Arm Protectors (from the sun) and made sure we put on lots of Suntan Lotion where ever our skin was exposed. Everyone knows the infamous Bill Olsen, the Randonneur who completed 8 1200s last year! Chris enjoyed meeting Bill and we stayed together for a few hours before Bill dropped off the back.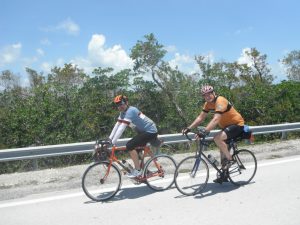 How HOT was it? … Bill eventually called it a day and headed back to New Jersey. In the evening and later the first night we were able to find padded chairs and couches along the way to grab the odd 15-30 minute nap. Just to let you know … I am totally a Wool Jersey FAN!!! A number of Randonneurs and Volunteers asked Chris and I, if these were too hot to be wearing and the answer was NO. We each carried an extra water bottle to shower ourselves when we were feeling the heat; the Wool Jerseys maintained the moisture for 1/2hr to 45 minutes, compared to the regular cycling jersey which stayed cool for 10 minutes at the most! Chris only had 3 Wool Jerseys so wore the regular cycling jerseys for the last two days and confirmed how much hotter they were! Of course feeling great in this HEAT had a teasing effect, every time "Larry" a Volunteer drove by us or saw us at a Control he would yell Bha..Bha..Bha..! I had thought the ride from just north of Daytona back to Fort Myers would be boring and not very scenic … I was totally wrong!
Rolling hills, Great little towns to pedal through and friendly people all along the way. Chris and I left the route in one small town to visit a Coffee Shop / Bakery … WOW!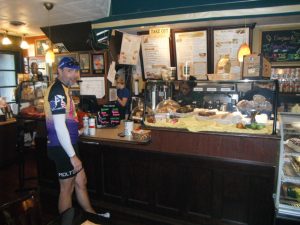 We returned to the route and headed towards Fort Myers. There was a stretch 14miles long through a National Park … no vehicles allowed! Just a warning!!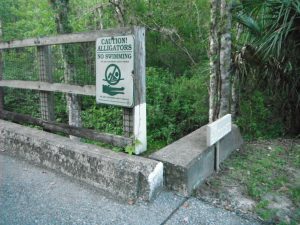 At the last Hotel before the final day, Chris and I took 4.5hrs to sleep then hit the road. Just leaving town, we noticed a couple on a mattress … in some front yard …hugging each other and watching the sun come up! I asked Chris if he thought that was a Secret Control!
I don't know if it's just me, but this 1200 was AWESOME!!! I can't wait to do it again! FLORIDA – I now know how beautiful this State actually is!!
THANK-YOU TO THE SUNSHINE 1200 ORGANIZERS AND VOLUNTEERS! I KNOW THE EFFORT PUT TOWARDS DEVELOPING AND SUPPORTING THIS EVENT IS MORE THAN ACTUALLY DOING THE RIDE!
Carey Chappelle