Ride report from Carey Chappelle:
Well … yesterday was one of my favourite Permanents for the year! By surprise, my wife and I ran into Bob Macleod and his wife Milana at a restaurant in Toronto a few weeks ago and enjoyed breakfast together. Bob mentioned doing a few permanents before year's end and I fell for it! I hope our next one is as fun as the Big Bay 200 was yesterday!!
Bob arrived in Port Elgin Wednesday night and stayed with us. My daughter was home for a few days and since her favourite restaurant in Port Elgin is Andre's, we all went there for dinner and loved it!
Thursday morning, Bob and myself were up early and discussed what we should wear. We trusted the rain forecast and dressed accordingly! Fortuntely, the RAIN started just after the first Control in Chatsworth and kept both of us cool for all the climbing to Walter's Falls.
At the Tim Horton's Control in Owen Sound, I took a picture of Bob just to confirm we had RAIN! With fenders on both of our bikes … we don't always know!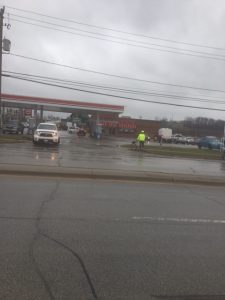 Rather then lunch at the Tim Horton's, we went to the European Cafe, on route and enjoyed GREAT deserts! It was Bob's choice as I suggested the Mexican Restaurant down town but he knew better! Leaving the Cafe, the rain had stopped and the temperature had gone up to 5 deg C! Beautiful scenery along the way and we arrived at the Control in Sauble Beach after the sun had gone down.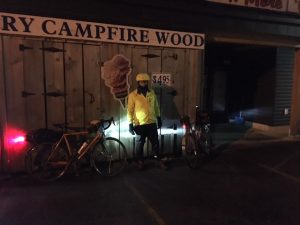 Rather than having dinner in Sauble Beach, we figured we would pedal the next 20km to Southampton and have dinner at the infamous Elk & Finch before pedalling to Port Elgin within the 13.5hr time limit. We made a quick call to the Elk & Finch and figured we better just continue on to the finish and not risk DNF'ing due to how busy they were and how hungry we were! We officially completed this permanent in 12hrs17mins and look forward to our next get together!
Amazing how the proper weather gear can make any brevet this enjoyable!