One Awesome 300km Brevet was held this past weekend. The Nassagaweya 300, created by Charles Horslin was ENJOYED and COMPLETED BY ALL 12 RANDONNEURS! This is the first time this ride was scheduled and I can't wait to do it again! Congratulations to John Cumming, myself (Carey Chappelle), Marc Deshaies, Jerzy Dziadon, Richard Felton, Mike Fox, Mark Hopper, Charles Horslin, Matthew McFarlane, Sergi Tsymbal, Brenda Wiechers Maxwell and Nick Wolfe for successfully completing this challenging 300km Brevet!
Now, the Huron Chapter generally likes to add some ENTERTAINMENT during a ride and typically would complete a 18 Hole Mini-Putt Championship on a 300 … however,  that would have created a few DNF's on this brevet … Scenery, 2300 meters of climbing and nasty weather created quite a challenge!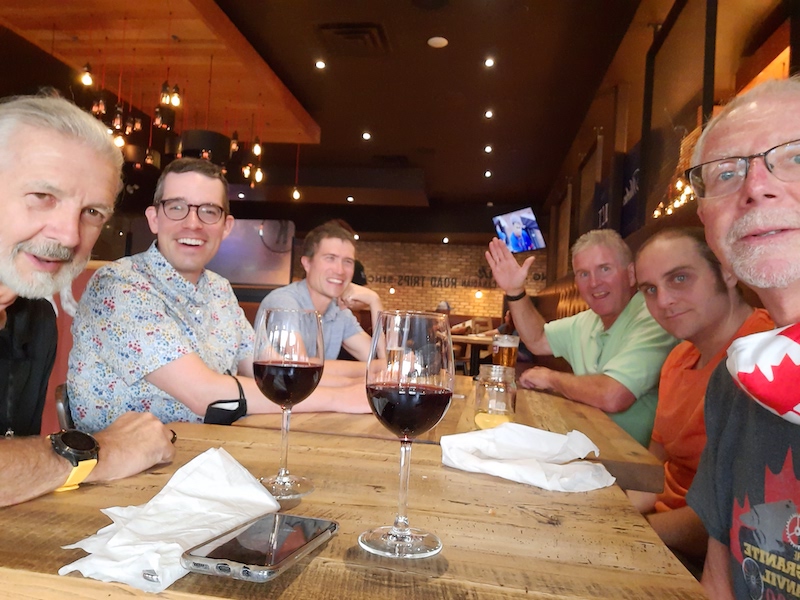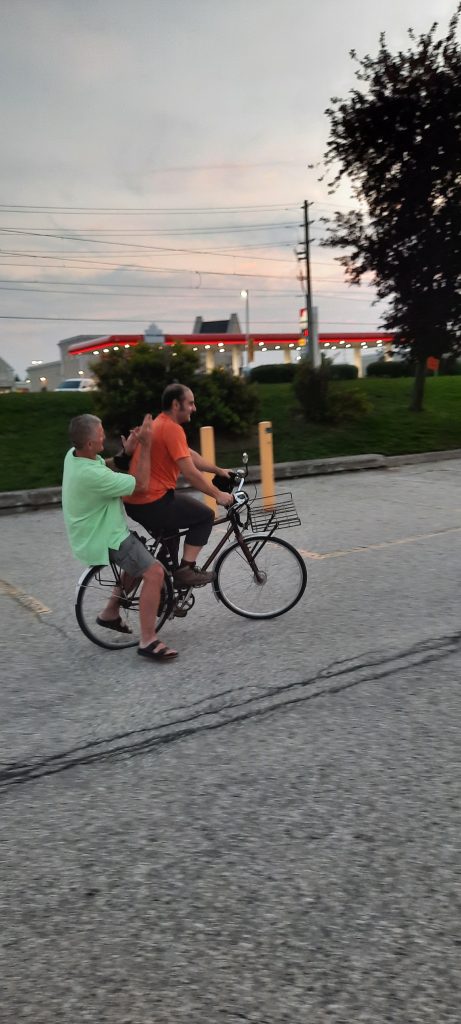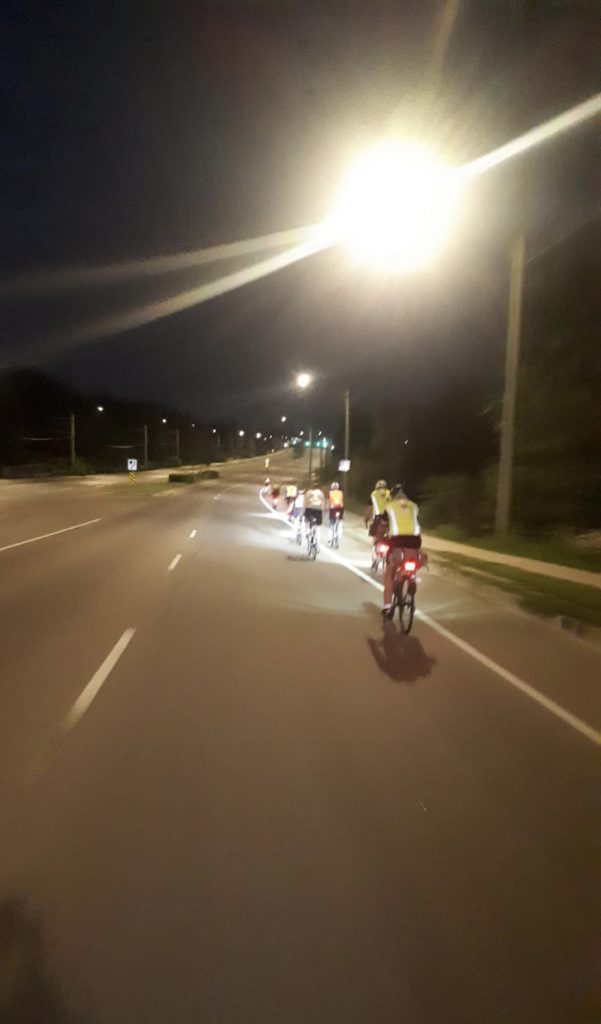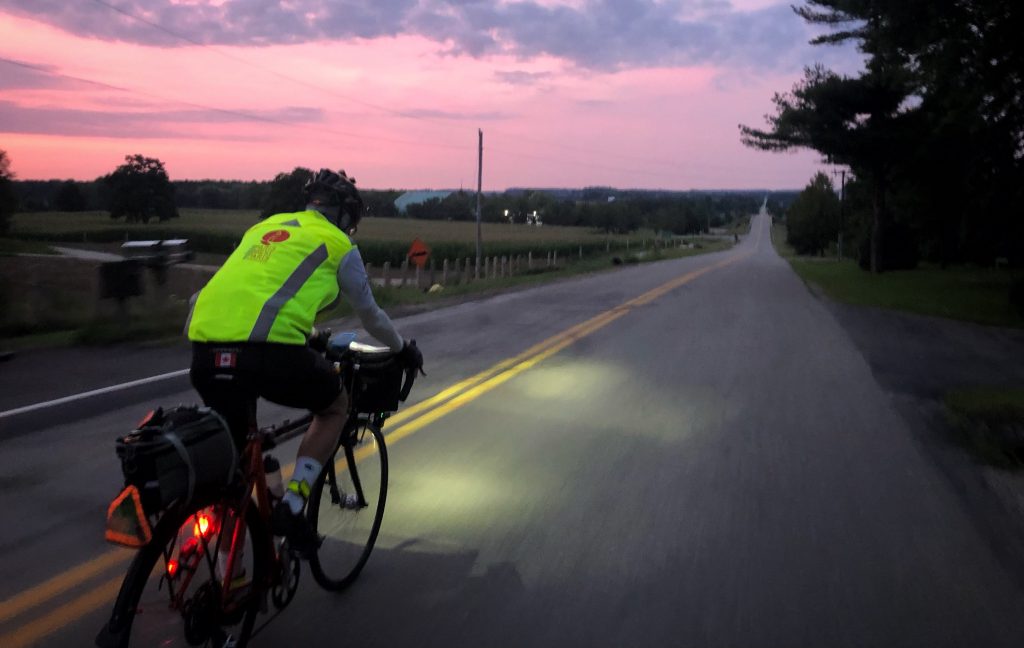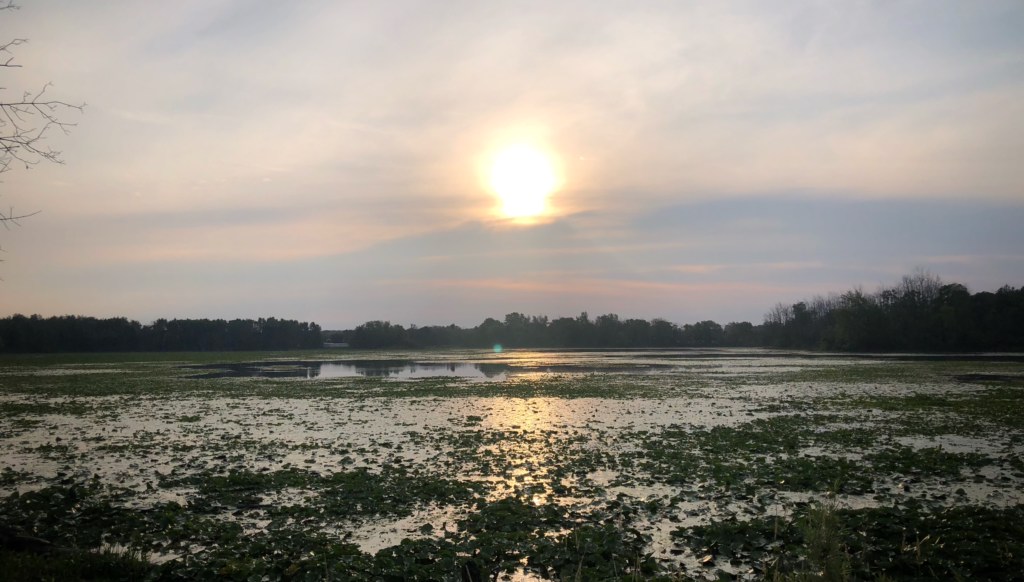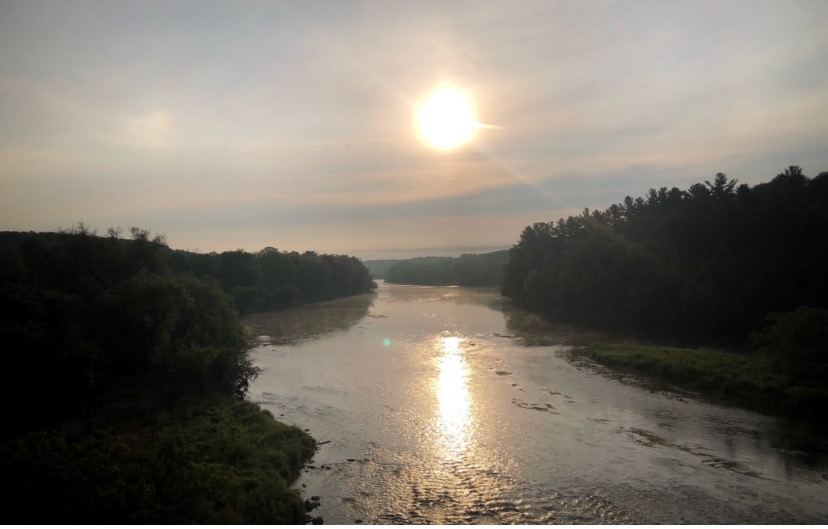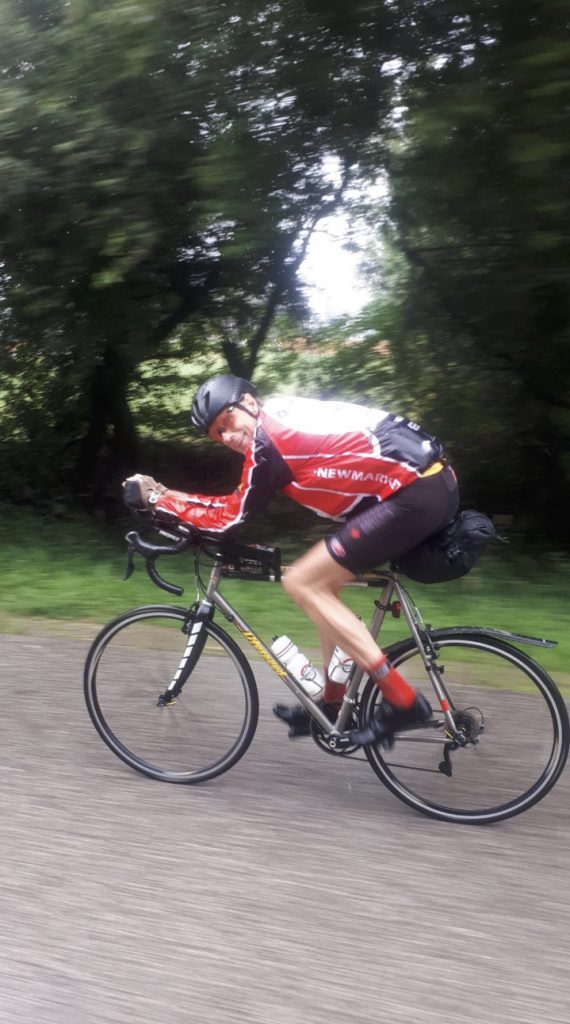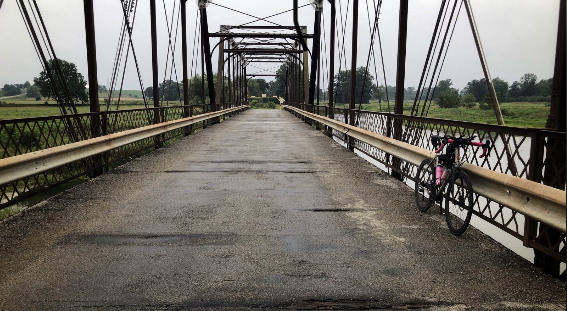 The first Control was in St.George where we saw a few Randonneurs stopped at the ESSO, our group stopped at a little Bakery and enjoyed some treats. Mike Fox met us at the Bakery before we all headed towards Hamilton. What a Gorgeous Ride that was, getting us back to the top of the Escarpment. Weather at this stage, PERFECT! The majority of us stopped at a POPULAR Cafe … the Copper Kettle in Waterdown for lunch and noticed  another 20 or so Cyclists on the patio.  One of them needed a tool and Dick was able to help them out!
Looking ahead, the weather forecast showed Heavy Storms headed our way with Rain Showers, Thunder and Lightning. Clouds could be seen and we all knew what was coming!
So the last 150km was the opposite of the first 150km, the groups had basically split up, finishing at different times. Mike and myself stayed together and had quite the adventure to the Finish! The last Control was in Hillburgh. The only place open was FOODLAND. Now Mike and I had hoped we would have dinner along with a Pint or two to get us home! We found a bike rack beside a General Store and parked ourselves. A Gentlemen approached us, found out what we were up to and let us know his Restaurant – Tina's Homemade Cookin! was closed but he might be able to convince his wife Tina to make us a dinner! Sure enough Tina came out and took our order, moved us to their Patio!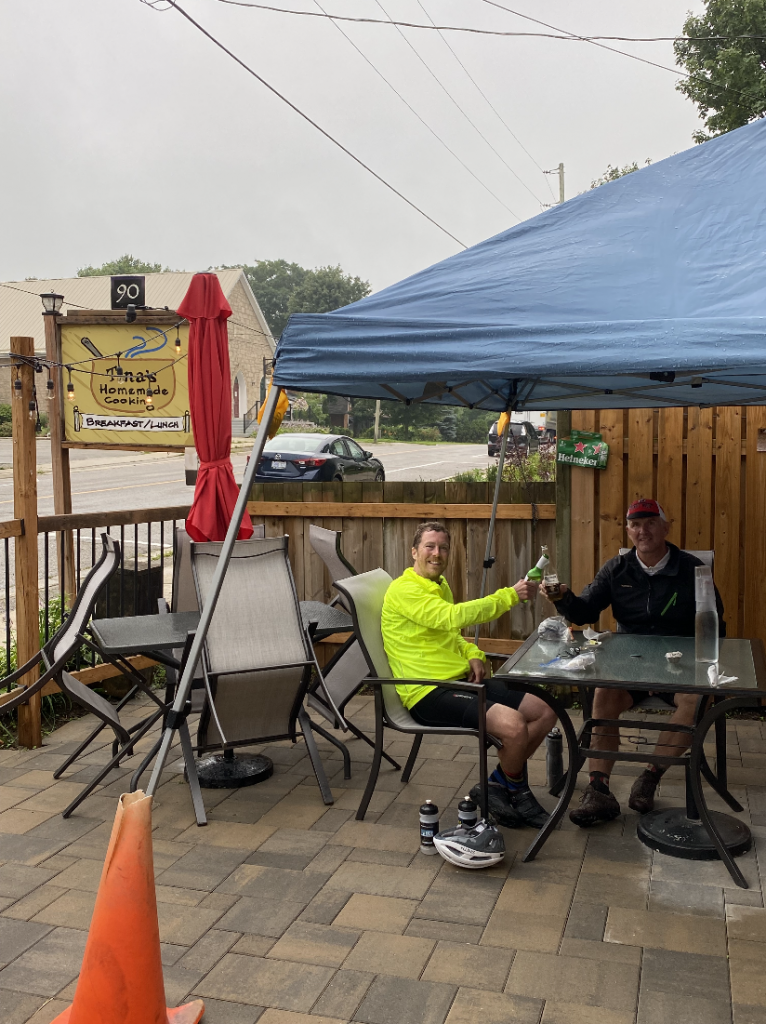 While waiting, Tina came out and asked if we would like some protein added to our burger …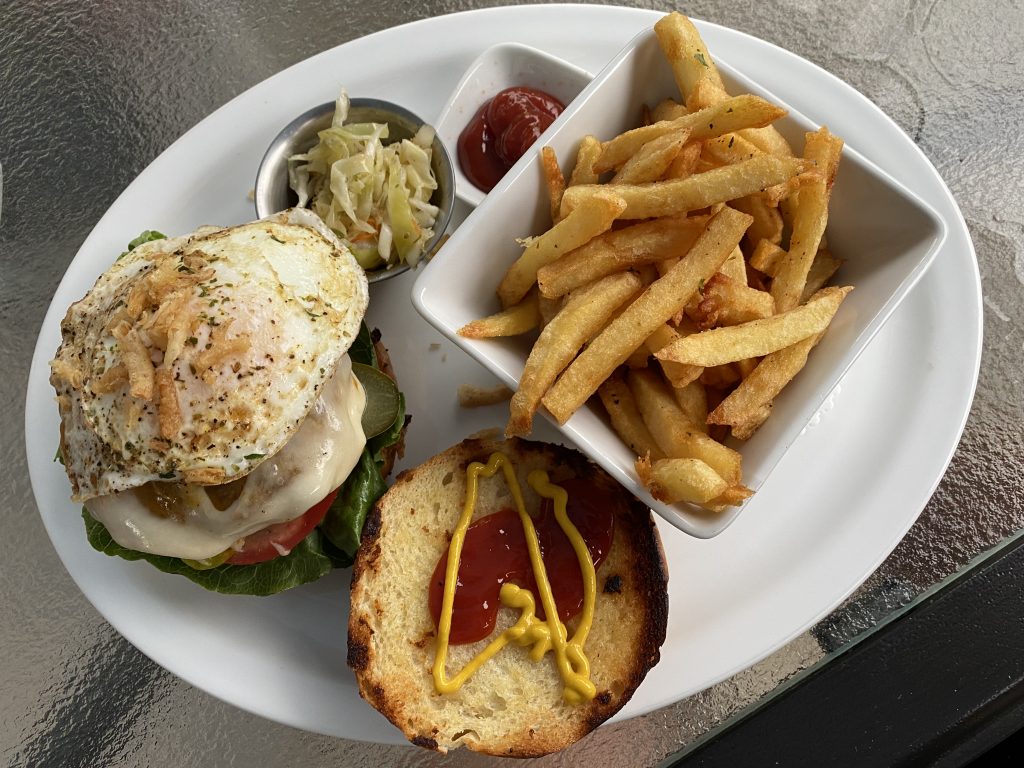 To this day, both Mike and myself agree that this was the BEST BURGER we have ever had! Now, having started dinner around 5pm and finishing around 6pm, we headed back out. Who shows up .. Dick Felton! So we decide to finish together and take turns leading into the STRONG HEAD WIND, HEAVY RAIN and eventually THUNDER AND LIGHTNING. At this point every man for himself! With 8km to go, my front light started flashing ON / Off, Mike's Rear Light simply turned OFF, so Mike led the way to the Finish with us arriving just after 10pm. Dick a few minutes later. If there is one picture I wish I had taken it would have been Dick entering our room at the Hotel, PRICELESS! Soak and Wet, Shivering and one big SMILE ON HIS FACE!
The next morning, Mr. Felton treated Charles, Gwen, Matt, Marc, John and myself  to breakfast at a local Sunset Grill. Boy … did that HIT the SPOT! Thanks for the photo Gwen!