Ride report from Martin Cooper:
Four riders and three bikes embarked on the Lake Simcoe 300, which circumnavigates Lake Simcoe in a clockwise direction.  Tim Ormond, Stephen Jones, Andrea Ferguson Jones and myself.  We rode east from Barrie along Shanty Bay/Ridge Road with a light warm breeze from the south and the glimmer of early morning light. We all arrived together at the first control in Orillia but on the way out Tim disappeared across the Atherly Narrows bridge which separates Lake Couchiching from Lake Simcoe and it looked like we would not see him again.   The Atherly Narrows has been used as an important fishing location for indigenous people for many millennia.  When Champlain visited the area in 1615 noted that the Huron-Wendat were fishing at the narrows using weirs to trap fish migrating between the two lakes. When underwater archaeologists investigated the narrows in the 1960s they observed wooden stakes driven into the lake bottom. The real surprise was when the radiocarbon dates came back at 5,000 years ago (I digress).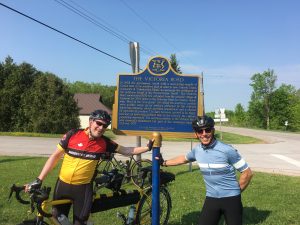 It was a wonderful ride to the next control, which was an information control, a historic plaque for the Victoria Road.  By then the heat was building as we headed south into a headwind that was not yet a blast furnace.  I tucked in behind the tandem and rode the Ferguson Jones train through the flat limestone floored Carden Plain, including a short but bumpy ride along a section of gravel road.  We arrived at Brechin in need of shade and water.  While I was turning the corner to find a convenience store I saw Tim pull away from a corner store. We had a short chat before he headed down the road.  Well on our way to the control at Beaverton we saw Tim heading towards us.  After the usual joking that he was going the wrong way, he told us that he had left his wallet and phone in Brechin…
By the time we reached the control in Beaverton we were in need of lunch and some cooling off.  Unfortunately, the pizza place we chose had no air conditioning so we sat outside and watched a parade of broken down automobiles passing back and forth while we forced down pizza slices that were way too large.
From Beaverton we continued south into the heat and wind until we finally started heading east along to the south side of the lake.  You could feel the cool offshore breeze before we could actually see the lake.  Then it was a pleasant ride along the shore, which was packed with sunbathers and picnickers.  While we were cruising along Hedge Road a dude on a time trial bike zoomed passed us and then sat up.  Stephen took off after him with Andrea and me in tow and we easily dropped him.  It was one of the highlights of the ride!
At about 205 km past the control at Keswick we finally started heading north and west out of the wind.  A sudden but brief cloud burst cooled us down on the way to Alliston.  We arrived at the finish in Barrie at dusk, just under 15 hours after we had started.  About 30 minutes after our arrival, Tim rolled in having successfully retrieved his wallet and phone.
Four started and four finished.  Congratulations to all for a long hot day in the saddle and especially to Andrea for completing her first 300 km brevet!