Ride report from Carey Chappelle:
WOW!
OK, I'll let you know how much fun we had participating in Huron Chapter's North Huron Tributaire 200 km Brevet this past week-end!!!
Marvin Boven, Carey and Donna Chappelle, together on their Tandem, Cori Dean, Paul Dowswell, Jurij Kerzan, Matthew McFarlane, Con Melady and Jim Raddatz all finished successfully.
Congrats to Marvin Boven and Paul Dowswell for completing their first 200km brevet. It was great Meeting you two! Marvin, your wife was awesome being at controls if needed!
Great Meeting Jurij Kerzna from Slovania, on a family vacation …  but joined us on this brevet just for fun! Jurij and Chappy had been in touch via e-mails many months earlier. Jurij had mentioned that he would like to do this Brevet when him and his family were in Ontario and on vacation. He had hoped to rent a bike in London Ontario, so brought his bicycle helmet, shoes and pedals thinking that would happen. It didn't, but Con Melady stepped up and let him use his Cervelo! Yes his Cervelo! Perfect fit and made for an awesome experience for Jurij!
Great meeting Cori Dean, a woman with a lifestyle that left us questioning where she gets time for one or two brevets a year!
This brevet had a 7am Start and everyone was on time and ready to go. The weather forecast showed rain and all we could see were dark clouds overhead.
Off we went, Donna and myself on the Tandem lead the way as Tandems usually do! A light rain disappeared by the first Control in Wingham. Everyone made this Control a short stop, looking forward to lunch at the next Control, the Bartliff's Bakery in Clinton. Somehow, the Bakery had room for all of us! With 124 km complete, everyone headed to the next Control, the Black Dog Village Pub & Bistro in Bayfield.
http://blackdogpubbistro.ca
Paul Dowswell, Con Melady, Matthew McFarlane, Chappy, Donna Chappelle,  Jurij Kerzna and Jim Raddatz enjoyed a refreshment after having their control cards signed!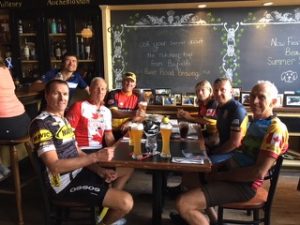 Traditionally, we would get back on route and once getting to the pier … would jump off for a swim! Not this time, I simply took the picture.  Cori Dean and  Marvin Boven were a little behind, so did not get included in this photo.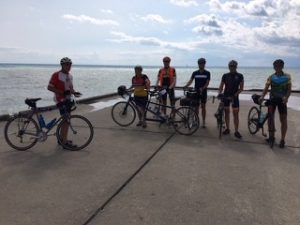 Heading back to Goderich, our group of 7 road together, got to know a little more about each other and simply loved the scenery.
Con and Cindy Melady prepared appetizers and invited everyone to their home.  It turned out to be a lovely garden party!  The majority of us hung out for an hour or two talking about how much we loved this ride!
Con, Chappy and Matthew were having some fun!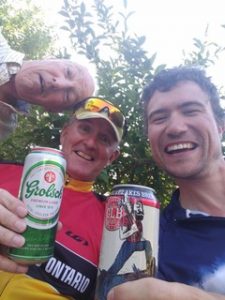 The Meladys had also made dinner reservations at the Beach Street Station for 8 people at 8pm, 5 were able to make it. If you get a chance to see the Sunset in Goderich, visit the Beach Street Station! An incredible restaurant! Incredible SUNSET! Great food and a great story about the original train station being moved to this location by the water!
https://www.beachstreetstation.com/?utm_medium=referral&utm_source=tripadvisor