Monthly Archives:
April 2018
Ride report from Carey Chappelle:
WOW!
Last week-end roads should have been closed, snow, rain and strong winds kept everyone off their bikes and inside!
This week-end … sunshine, blue sky, next to no wind!
The Huron Chapter hosted the Kemble Rock 200, Saturday, 21Apr2018. Congrats to Chris Cossonnet, Charles Horslin, Ken Jobba, Bill Little, Matthew McFarlane, John Maccio, Liz Overduin, Terry Payne and myself for successfully completing this ride! Special notice to Matthew McFarlane for completing his first ever Brevet!!
Thanks to Matthew for helping me return my rear wheel to service after having my cassette go loose 11km into the ride! With a Campagnola wheel and a screw loose, it looked like I'd have to stop every ten km to re-adjust screw tightness … I didn't have the tool I needed, Matthew did, so after mentioning using my Locktight … the screw stayed tight!
Temperature went from -1 deg C to 13 deg C. Later in the day everyone was taking their cold weather gear off to prevent overheating!
If you have never done this Brevet, I can only say the scenery is second to none. Here's a photo of Ken Jobba stopping to take pictures just before the great descent down Kemble Rock Mountain.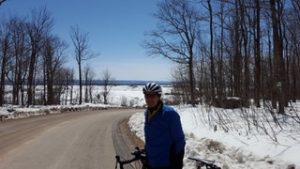 Here are Bill, Terry and Liz stopping to enjoy the view before their descent!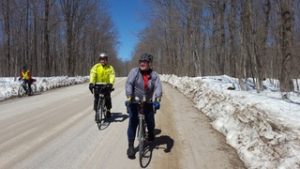 My top speed down Kemble Rock Mountain has been with my wife on our Tandem at 84km /hr. On this ride, everyone had to pay attention as the roads had not yet been cleaned up after last week-ends weather!
Heading towards Owen Sound, Bill Little decided to stop for some Tea!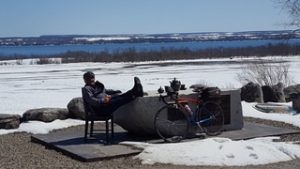 Everyone arrived at the Tim Horton's in Owen Sound together for lunch and a well earned break before completing the last 90 km. It's amazing how short the day seems when scenery, friends and cycling are together!
Ride report from Carey Chappelle:
Happy Easter Everyone!
And of course … Happy Easter to all of the finishers of Huron Chapter's Neustadt 200 this past Saturday!! Chappy (that's me of course), Frenchy (Chris Cossonnet), Terry " Can't Ask for More Fun!" Payne, Liz "Shiver and Shake" Overduin and Charles "Bat Out of Hell" Horslin.
To the 4 Randonneurs who Cancelled their attempt due to the weather forecast …I'll fill you in on what you missed!
Thank-you John Maccio and Matthew Macfarlane for meeting us at the Start and wishing us well!
Did everyone notice the weather this past week-end? Blue Sky and Sunshine Friday and Sunday.
Saturday … 56km SSW Winds, Thunder and RAIN! The participants in this Neustadt 200 performed second to none! It was my pleasure riding with them, socializing and simply enjoying the show!
Frenchy designed this route and had two Controls between the Start and Finish, they were the Big Dipper Bakery in Paisley and Noah's Inn in Neustadt.
Enjoying some great tale winds from the Start to North Bruce, we all noticed the TUFF winds we were going to ENJOY to the finish and decided to simply get our Control Cards signed at the Big Dipper Bakery in Paisley and SKIP the treats so we could focus on pedalling the rest of the ride into the 56km/hr winds!
I contacted the Noah's Inn in Neustadt and found out they would not be open until 1600hrs on Saturday. Being our official Control, it seemed that our best bet would be to have lunch in Hanover, not in Neustadt, and that's what we did.
Heading South, we travelled at less than 10km /hr.
Heading West, we were somewhere between 13 and 19km/hr.
Some recovery occurred whenever there were Farms, Barns or enough Trees to block some of the wind. When that didn't exist, everyone was bent over 45 degrees just to maintain balance and stay on their bikes!
Terry Payne looked me in the eye in Neustadt and simply said "You Can't Get Ask For More Fun!"
Everyone was basically together until leaving Mildmay, then at the T – Bismark St. N (Concession Rd 8 W), Charles Horslin took off like a "Bat Out of Hell" and we didn't see him until the Finish.
Frenchy and myself were the last two to Finish and were a few minutes behind everyone else. Heading West to the Shores of Lake Huron, the RAIN turned to SNOW! I started getting nervous, hoping the road conditions would not get dangerous! Terry, Charles and Liz were waiting for us at the finish. We had our Control Cards signed then shared a few laughs with everyone before heading home. It was obvious of how cold Liz was, she "Shivered and Shaked" while trying to get refuelled in front of Tim Horton's Fire Place!
Hard to explain, but I can't think of anything else I would rather have done!
Already excited about our next brevet!