Ride report from Carey Chappelle:
The Huron Chapter Hosted the 2018 Creemore Classic Bowling Championship this past week-end! To officially compete in this event and have their name entered on this trophy, the Randonneur had to participate and WIN the Bowling Championship at 220 km, then successfully finish the Creemore Classic 400!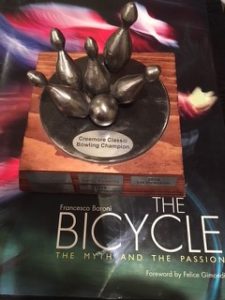 The Current Creemore Classic Bowling Champion…Chappy, knew he no longer had a chance to win, so decided to impress fellow bowlers with his juggling act!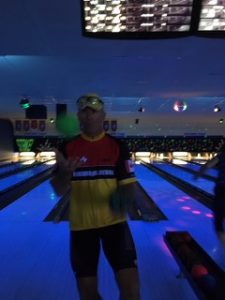 Matthew McFarlane simply wore sunglasses to protect his eyes!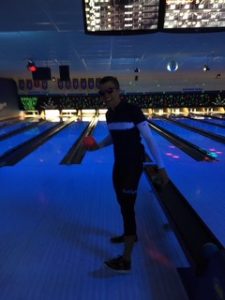 Brenda Wiechers had the best FASTBALL!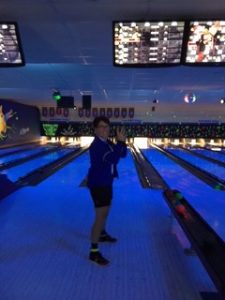 Darcy Haggith, was still smiling with one last attempt to WIN!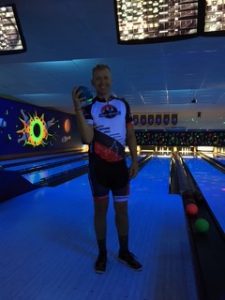 This year's Creemore Classic Bowling Champion…None other than Richard Meloche!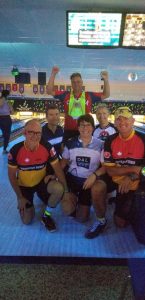 Congrats Richard!
2018's Creemore Classic 400 km Brevet Report
Congrats to the Magnificent Seven who were successful completing 2018's Creemore Classic 400 km Brevet!
Chappy, Darcy Haggith, Matthew McFarlane, Richard Meloche, Tim O'Callahan, Paul Slavchenko and Brenda Wiechers.
The Windsorites came to Port Elgin Friday evening, 4 Randonneurs … Brenda, Tim, Darcy and Richard and 2 Supporters…Geoff Owen and Steve Tymczak. Tim rented a U-haul trailer to carry everything from bicycles, bicycle parts, energy bars, power gels, energy powder, water, cycling clothing, ultraviolet eye glasses…on and on and on!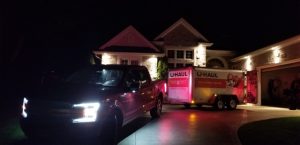 Prior to leaving Chappy's house to the start, Richard had everyone in tears laughing about the rain happening outside! Fortunately, it reduced a lot … at least for the first 100 km!
The Magnificent Seven left Tim Horton's Saturday morning at 0530hrs. 30 km into this ride, we passed through Sauble Beach…noticing the wind and light rain!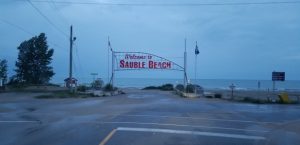 Then on to Wiarton…where the rain had stopped!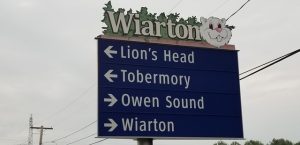 We continued along the Bruce Peninsula, through Big Bay passing the Marina in Owen Sound.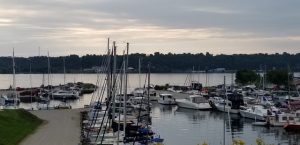 Had our Control Cards signed at the Tim Horton's then went to the Frog for a light snack, everyone still together!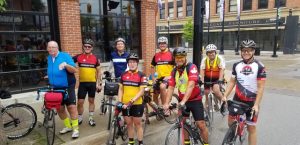 This is where the Creemore Classic 400 introduces climbing! Everyone headed out knowing hills were going to separate us for a while. The next Control was the Top'O The Rock in Eugenia. A GREAT climb to get there! Paul arrived just as the rest of us were heading out and joined us for this photo. Check out the left side of this picture and you'll see where our Supporter's, Jeff and Steve were!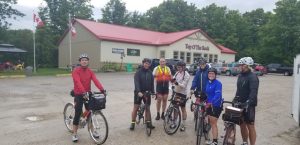 Brenda and Tim figured out they would need some cash and stopped along the way at an ATM!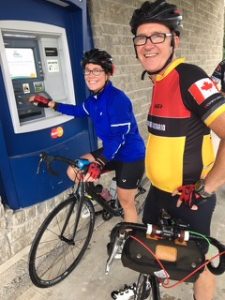 Arriving in Collingwood, six of us had our Control Cards signed then went to Georgian Bowl to participate in the 2018 Championship. Here is a photo of this year's Creemore Classic Bowling Champion – Richard Meloche leading us to Creemore!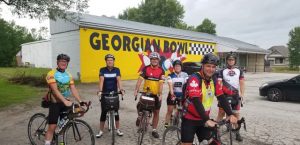 All of the participants shared a dinner at the Old Mill House Pub in Creemore, well Paul just had a pint because he had something to eat in Collingwood prior to getting there.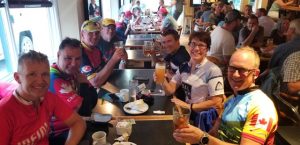 Prior to leaving we all stepped outside for another photo!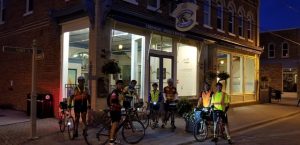 Pedalling to the Village at Blue Mountain was 35 km, then everyone had their Control Cards signed at the Fire House Pizza Co., before heading out to do the infamous Scenic Cave Climb! I won't identify who had to walk but there were 3 Randonneurs who simply took that advantage! Of course, the rain started shortly after reaching the top, so everyone put on some rain gear to stay warm on the descent! Descent? Yes, meaning we were fortunate enough to have to climb the Escarpment again, heading to the next Control in Chatsworth. Jeff and Steve (our Supporters) were at the Control, the 24hr Donut Shop that is not open 24hrs!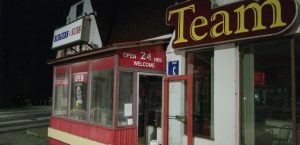 A few of us were out of water, knew we had 50 km to go, so were feeling upbeat knowing our Supporters had everything and more to get us through!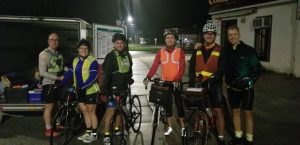 Paul Slavchenko blew a spoke between the Scenic Cave Climb and Walter's Falls so was a little behind the main group, but successfully made repairs in the rain and made it to the finish successfully! Way to Go Paul!
Matthew McFarlane's chain blew off between Chatsworth and the finish, so him and Chappy took a few minutes to repair it, then Matt let Chappy know he had to take a nap and did … 20 minutes or so and he was only a few minutes behind Chappy at the Finish!
The Windsorites…Brenda, Tim, Darcy and Richard…30 km average, staying together and taking turns up front…Awesome Cyclists! They take a little longer at Controls, but make up with their pace! And last but not least…the Ultraviolet Glasses were available whenever a Randonneur was falling asleep! In the past we would stop and nap at the BMO for some sleep, not this time! Check out the man with the Glasses!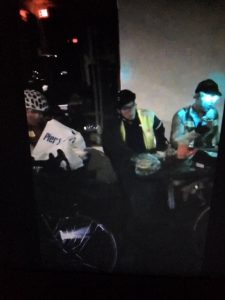 What else can I say…
WOW! what an AWESOME 2018 CREEMORE CLASSIC!!