Ride report from Carey Chappelle:
In the fall last year Chris and I headed to Carolina for the Taste of Carolina 1200.  Hurricane Matthew was waiting for us, so after declining Tony Goodnight's route change to reduce our headwind from 130 mph to 100mph, we simply had our dinner and headed back home.
This year was different, Spring … new route … pedalling through Kill Devil Hills and Nags Head … we couldn't get more excited!
I convinced Chris to take an extra day off work so we could get to the Start in 2 days not one. Then I made reservations at the Four Points Hotel in Charleston, West Virginia for Monday night. Last year we drove by Charleston, West Virginia commenting on how gorgeous this town looked! We'll … we confirmed that this year!! Dinner at the Pies and Pints downtown …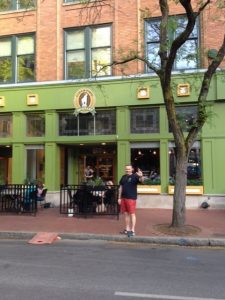 Followed with breakfast at the Swiftwater Cafe the next morning before heading to the Start in North Carolina.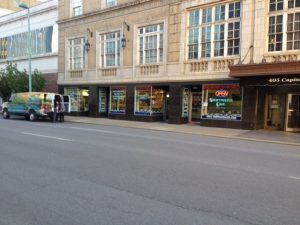 Once in Durham, NC we booked into the Comfort Inn Research Triangle Park and were in touch with many of the 14 other Randonneurs participating in this 1200, enjoying a great brunch provided by Tony Goodnight. We all knew the Start time was 0400hrs the next day, so many headed to bed around 1830hrs to get some sleep in the bank!
0400hrs on Thursday morning came early, we enjoyed a speech from Tony Goodnight, and an introduction to other volunteers helping us out, then OFF we went!
We could see the American Flag standing straight out with that strong East Wind, but knew eventually, that would be a strong West Wind! Sunshine thru the first day meant putting on Sun Screen early and we did! A first for Chris and me. The roads were in great shape! Many looked newly paved, SWEET! Many farm lands from the 1800's were still standing and taking a picture or two would have been nice but we don't go fast enough to take the time to do so! Chris and I were the last to leave the Henderson Checkpoint after having lunch at Subway. We didn't pay attention to our route sheet, believed in our Garmin GPS to lead the way. At this stage, I felt like I had been on the bike for 3 days, blamed the heat for that one! So, following our Garmin we added 5km just pedaling in circles! We finally decided to head back to Subway and follow our route sheet. No problems then. Eventually we were able to get our Garmin's working properly and I just told Chris it's not the Garmin … it's us, WE have to learn how to use them! Then we passed an interesting road sign … Carey Chappel Lane but again not enough time to take a picture!
Heading towards our next Control, Chris's right knee started testing him. Many years ago, Chris found he had a cartilage issue that the Doctor's said they wouldn't recommend surgery to repair until things got much worse … two weeks before this 1200, Chris pulled the pin on the Bowle Buster 300km Brevet, 56km into the ride feeling incredible knee pain and wanted to minimize the problem asap. Chris visited some specialists and was given the go ahead for this 1200km event.
Once we arrived at the next Control, a store in Gaston, NC we discussed Chris's issue with Tony Goodnight who CORRECTED Chris's seat position and iced his knee. Right away Chris felt better and we figured the problem was solved! As a matter of fact, I began thinking I had a problem, couldn't keep up on the hills with Chris (normal anyway) but couldn't keep up on the flats either. Thankfully Chris was never far enough ahead I couldn't see him. At 03:42hrs. Chris and I arrived at our sleeping Control in Elizabeth City, NC had our Control Cards signed and hit the hay. An hour and a half later we were back on our bikes to start day 2 of this event.
Day 2's route was the section Chris and I couldn't wait to see! Going on Google Maps many times before this ride had us very excited about pedaling down an island just off the North Carolina Coast! We were experiencing heavy rain and wind at this time, Chris suddenly pulled over to have a discussion … he had just received the WEATHER WARNING on his cell phone. A TORNADO WAS HEADING IN OUR DIRECTION! I suggested we keep going because we would be able to see a Tornado and pedal a little faster if needed! Better than a Hurricane!!  Heading out to the island meant pedaling across a 5 km bridge, then thru the town Kill Devil Hill's to the next Control in Nags Head, NC. The first sign we saw on the bridge was a GUST WARNING indicating your vehicle could be blown across lanes if the wind was in that direction! OUCH! Fortunately we had an EAST wind and flew in the right direction!
Chris and I were surprised seeing 3 other Randonneurs entering a McDonald's for a break around 10:30hrs when the Control in Nags Head, NC closed early in the afternoon. This stage had the toughest wind and rain that Chris and I had ever experienced, Chris was ahead of me and protected by some trees, I was in the area without protection and blown off my bike! I was able to hold on to my bike and was expecting one of the neighbours across the road to offer me their garage for protection! I guess they weren't home, so eventually the wind reduced and I was able to catch up to Chris! We continued to the Control in Nags Head, NC against strong head winds and tons of RAIN! After getting our Control Cards Signed we headed to Taco Bell where we ran into the 3 other Randonneurs that we had seen at McDonalds earlier on … half done their lunch … Chris was so surprised he asked where they had passed us because we hadn't stopped anywhere!
Despite the weather conditions, the SCENERY BLEW ME AWAY! My daughter, Erika and wife, Donna would LOVE the scenery!! Now on our family's ToDo list! The horrendous weather was simply Gods message to me … family first! Or so I thought!
Leaving Nags Head, NC, Chris and I figured we were about to enjoy a tail wind, as we would soon be heading West the majority of the time! I even suggested we may not have to pedal the rest of the 1200! Figuring a head wind leaving the island to the mainland was not what we expected … a tail wind … not as strong as the tail wind heading out to the island but better than a headwind none the less! Once we hit the mainland it was OBVIOUS! HEAD WIND HAD CHANGED! NOW FROM THE WEST!!! OUCH!!!!
Chris and I were headed to the Control in Engelhard, NC. Going north was a break from the wind, I took the lead and over time noticed Chris was falling back. I waited for him and let him know that we had to do a minimum of 15km/hr to be successful in finishing this 1200. It wasn't long before I lost Chris again, I waited for him and just looking into his face told me his situation. He suggested that I let him go, he was going to DNF at the next Control as he physically couldn't finish the last 600km. So I took off figuring I'd get the Organizer at the Control to come back and pick him up. Well, this Control had no Organizer and our Cell Phones didn't work! I walked out of the restaurant looked back on the route and there was Chris heading to the Control. He said he'd finish this 1200 come HELL or HIGH water! So I sat on the window sill as only 3 chairs and a table in this restaurant existed and had something to eat, of course we arranged a chair for Chris.
We left the Engelhard, NC Control around 19:00hrs with three other Randonneurs and headed towards the next checkpoint in Belhaven, NC. The best part of this section was BLUE SKY AND SUNSHINE! The head wind still pummeled us and the sun went down early so we were simply trying to stay in line and on the road in the dark. Everyone's km/hr was around 11 not 15 and there was nothing we could do about it for a good portion of this section!
Chris and I had been on the road for 32 hrs with 1.5hrs sleep. I was looking forward to getting a Cappuccino or two at the next Control just to stay awake during the night.
Of course we all think about LIFE at different times and this was my time! Chris was a little ahead of me, pedalling like he had no issues. It was between 12 and 1am Saturday morning. I figured we would get no more than 2hrs sleep before heading out for the 250km section Saturday and a few more hours sleep before finishing the 150km section Sunday … I thought how much more I would like to be in my bed at home with my wife Donna or visiting my daughter Erika in Toronto, then pedalling here.
My wife, Donna had surgery on Friday (during this 1200), her secretary took care of her, taking her to and from the hospital in Owen Sound. Why … I wasn't there. Donna told me not to worry about it, so I tried not to. I was able to touch base with her before and after the surgery, but no one was home with her for the 24hrs needed. Of course she was on the phone continuously with neighbours and friends wanting to make sure everything was OK. I thought of the time my wife spent with me when I went through the Herpes Encephalitis scare in 2005 (and that happened during the March to the Marsh 600!), then the blood clots in my lungs after flying home from 2011's PBP and then when she was successful doing the Heimlich maneuver on me in a restaurant in Paris, France after the 2015 PBP. The restaurant manager witnessed the event and dropped by to ask if we needed any help … my steak had landed on an Egyptian Lady's plate and I had gone over and asked her if she wanted Steak or Fish … my wife said you will sit down, eat or drink nothing for at least 10mins … then she asked the manager to drop off a can of Coca Cola saying I needed that right of way. After the Coca Cola and 10mins of not eating, I finished my dinner, my daughter's dinner, my daughter's friend's dinner, my wife's dinner and the rest of the Red Wine!
OK … I added the story about the Egyptian Lady's plate but everything else is true!
So, continuing on to the Belhaven, NC Control, 666km into this event I decided I was officially going to DNF, call it a day and tell Chris to continue on. So as we pulled in, Chris let me know he was going to DNF …. so after a couple of minutes I let Chris know that I personally had made the same decision just earlier on and that he WAS NOT the reason why. One of the Organizer's was there, so we let him know, loaded our gear onto his vehicle, shook hands with the 3 Randonneurs left at the Control and wished them all well.  Chris had a physical reason why and I had just lost interest in finishing.
Chris, the ride Organizer and I headed out to the next Controls before stopping at the Sleep Control in New Bern, NC. The Organizer told us a Great story about this female Canadian Randonneur named Liz who finished three 1200km events in 2013 with the last one being the Taste of Carolina and that it had twice as much climbing and stronger winds then this one. After a half hour or so, I asked if her last name was Overduin, then wondered if I could hide in the trunk!
You're famous Liz!
This is my only DNF in 20 years of Randonneuring, but I am 54yrs old and know what's important in life. I will continue Randonneuring when I know that my family has no issues during these incredible rides!