Ride report from Carey Chappelle:
SUNSHINE! … BLUE SKY! … GLEN STEEN! … We couldn't ask for more! Glen arrived to meet everyone at the Tilsonburg Community Centre prior to 2018's FROSTY 200!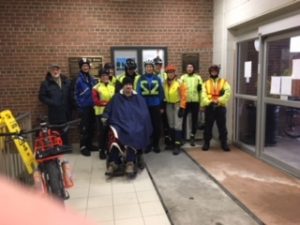 Patrick Whitehead, Liz Overduin, Terry Payne, Bob Kassel, Ken Jobba, Jim Raddatz, Brenda Wiechers, Tim O'Callahan and myself met with Glen prior to the Start. We talked about the one and only time the FROSTY 200! had been completed, Glen had injured himself crosscountry skiing a few days before, so he decided to support us on the first FROSTY 200!, by setting up Secret Controls and being available from beginning to end. On this FROSTY 200!, Jim Morris took over and supported everyone from beginning to end and was MUCH APPRECIATED!
GLEN STEEN SENDS US OFF!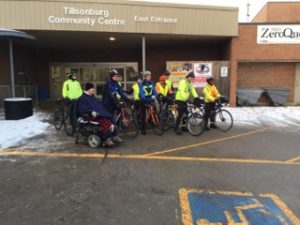 The advantage of this FROSTY 200! was that the roads were in excellent condition … not snow covered! The disadvantage was the 25-45 kph head winds from the WEST! Riding with Bob, Liz and Terry, we decided not to stop at Control #2, Uncle's Country Coffee Shop for lunch, but work our way towards Control #3, the Norfolk Tavern in Port Dover. Riding my TREK 1120 Mountain bike, with Fat Tires, I couldn't believe I was climbing a hill at 0.0 Km/hr! Felt better when I looked ahead and saw two Randonneurs walking up the same hill!! The Tavern we were headed to, was PACKED! Fortunately we found a few chairs open at the Bar and enjoyed a great lunch! Not to mention the entertainment from the Band playing music!!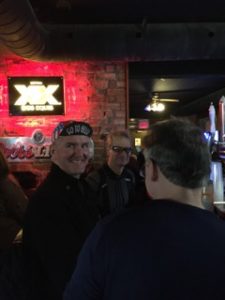 Tim O'Callahan and Brenda Wiechers were a little quicker then us, had lunch at Control #2 so passed by us on their way to Control #4, Tim Horton's in Delhi.
Notice the smiling face on Brenda!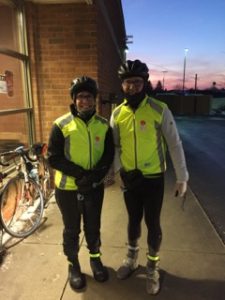 Eight of Nine Randonneurs were successful completing this FROSTY 200! Everyone enjoyed the SUNSHINE, BLUE SKY and touching base with GLEN STEEN!